Black Sage Vineyard 2011 Pipe 500mL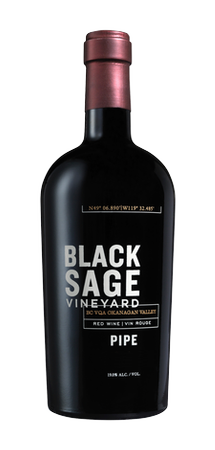 Wine Profile
Tasting Notes
On the nose you will pick up sweet, ripe dark fruit. The palate is full and mouth coating with more dark fruit, and hints of raisins and figs. On the lengthy finish you get the warmth of the alcohol balanced with a natural residual sweetness.
Awards
SILVER MEDAL - DESSERT STYLE WINE - OKANAGAN WINE FESTIVAL
Food Pairing Notes
This wine can be enjoyed on its own or with a variety of strong cheeses such as blue or stilton. If you enjoy something sweeter - dark chocolate, or a dessert with raisins or figs will certainly pair well.
Product Reviews
vino
(Feb 6, 2014 at 11:56 AM)
Really like this wine. Reminds me of my days back home.
Rosie
(Sep 25, 2014 at 5:24 PM)
Consistently delicious! I have all my friends hooked and have been purchasing this PIPE for over 15 years.
Brent
(Dec 31, 2014 at 2:27 PM)
Great port... I mean Pipe. It leaves you wanting more.
Anita
(Jul 30, 2021 at 6:54 PM)
Beautiful body with a smooth finish. Great with chocolate or any dessert! Must have