Black Sage Vineyard 2020 Whisky Barrel Aged Red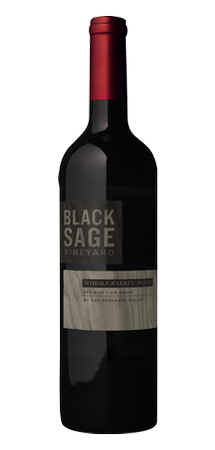 A special addition to the Black Sage Vineyard portfolio, the Whisky Barrel Aged Red wine spent 4 months in premium Canadian whisky barrels imparting generous notes of caramel, vanilla and spice to the already dark fruit flavours provided by the blend of Shiraz, Merlot, Zinfandel and Cabernet Sauvignon.
Wine Profile
Tasting Notes
The wine has a smoky toasty whiskey aroma with an undertone of dark red cherries and hints of black forest cake. The palate is rich and luscious with sweet notes of whisky lactones and dark red fruits with a hint of mocha.
Vineyard Notes
Our Black Sage Vineyard, located on the East side of the Okanagan Valley received plenty of sun throughout the Spring and early Summer. Cooler temperatures prevailed during August and September, but Mother Nature was nice enough to bless us with a warm October. We're expecting big things from our Viognier and Chardonnay as the fruit was top notch. The late ripening varietals which dominate our site are showing rich red fruit and sophisticated structure.
Winemaker Notes
The grapes were brought in at peak ripeness and fermented in stainless steel tanks for 2 weeks, during which they were gently pumped over to increase flavour extraction. The wine then went through malolactic fermentation, after which a portion of the wine was allowed to age in used whiskey barrels. The other portion of the wine was then aged in specially selected French and American Oak barrels. After 18 months of aging, the wine was then emptied from the barrels and meticulously blended together to create this delightful wine.
Food Pairing Notes
Pairs wonderfully with a charcuterie board packed with bold flavours: sharp aged cheese, candied walnuts and salty cured meats.
Product Reviews
Dana Reyburn
(Jun 28, 2019 at 9:09 PM)
Loved this wine. Hard to describe as it is full of flavor with subtle hint of smokiness and yet so mellow. My brother and I bought a case and am looking forward to enjoying it!
Darlene Neilsen
(Dec 12, 2020 at 12:16 PM)
We are always happy with our selection of wine being a part of the wine club but when we received this bottle we soon realized this blend was our favorite so far. The underlaying whiskey barrel aged element was what set this bottle above the rest. Highly recommended.
Gina Gagnon
(Dec 31, 2020 at 11:28 PM)
This wine leaves you wanting more and looking forward to your next sip. Distinct flavours of wiskey will sure to make your pallet wanting more.
Josh Bellamy
(Jan 4, 2021 at 5:57 PM)
Best wine in the club. Missed it while not available rest of the year. The hint of whiskey aroma and the velvety finish are spectacular.
Jennifer Hogan
(Jan 21, 2021 at 7:30 AM)
This is the best wine! We enjoyed it with a beef dinner. I would highly recommend it. In fact, there is a reason why it is sold out. Try it out, you won't regret it!
Marilyn SorensenGraham
(Jan 30, 2021 at 5:18 PM)
This is the most amazing red wine ever to cross my lips.... the rich velvety texture and the aroma is to die for !!! I always recommend this wine to everyone because everyone should have the distinctive honor of of its true pleasure
Mark Siemens
(Feb 14, 2021 at 6:33 PM)
This is a very unique wine...the rye whiskey aromas are obvious. Probably not for everyone but sometimes different is good.
Margarita Morphet
(Feb 26, 2021 at 4:18 PM)
The best wine for any occasion. Love it.
Christy
(Mar 15, 2021 at 2:08 PM)
Everyone loves this wine.
Shane
(Oct 28, 2023 at 9:06 PM)
Had it as a taster in the store and the fact that they used whisky barrels in the aging made me stop for a sip. I tend to be mostly in the Syrah offering for my pallet. After pairing it with a lovely rich meal tonight and pouring through an aerator I was amazed. This wine was absolutely amazing and I will be buying a case tomorrow