Sumac Ridge 2022 Private Reserve Cabernet Merlot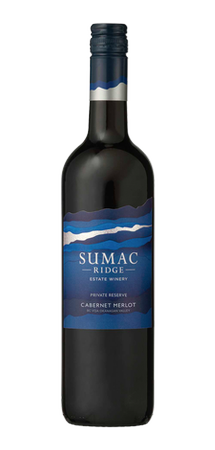 Wine Profile
Tasting Notes
Plenty of fresh ripe fruits on the nose with a slight hint of spice and toasted vanilla and mocha. The palate has similar flavors with lots of bright red fruit and some spice and vanilla. The finish is medium a nd the tannins are soft and approachable.
Vineyard Notes
A warm spring followed by a cool and wet fall allowed for great flavour development without the loss of any acidity or overripening. Aromatic varietals such as Gewürztraminer, Riesling and Pinot Grigio developed marvelously with excellent structure and aromatics. The red varietals are more Burgundian in style with bright fruit flavours and light finishes.
Production Notes
The grapes were picked at the end of October and were gently crushed and destemmed into stainless steel tanks. They were then fermented for two weeks with twice daily pump overs to increase flavour and colour intensity. The wine then went through malolactic fermentation and was aged with a specially selected French and American oak.
Food Pairing Notes
This wine pairs well with hearty beef dishes, rich pasta or luxurious chocolate desserts. Perfect for a night in!
Product Reviews