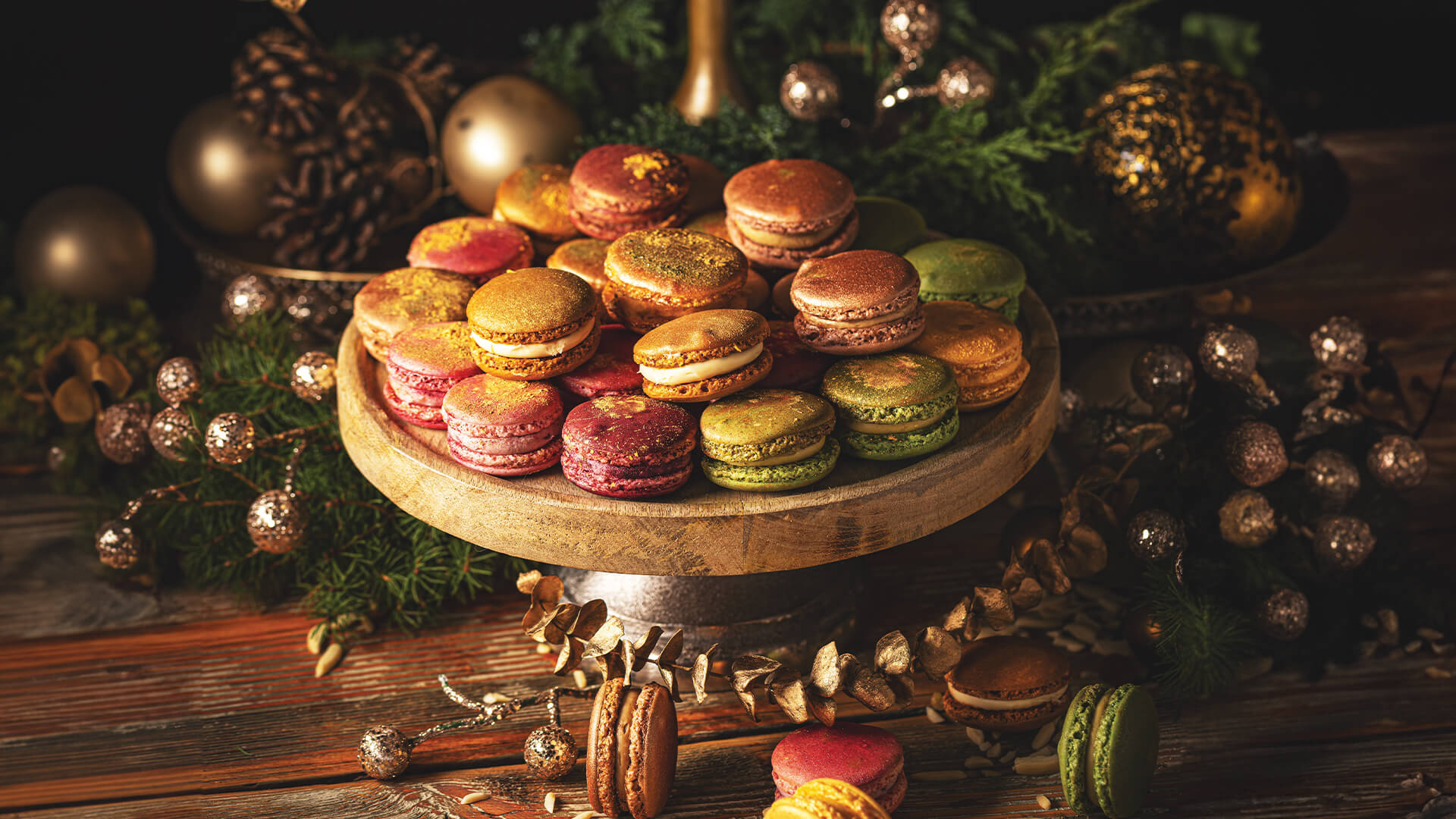 If long, leisurely (and a bit indulgent) weekend brunch is your thing, this is the menu for you. Start off with fruity mimosas and then ease your way into Eggs Benny, fancy-ish French toast, a fresh salad and the prettiest dessert ever.
Rosé Mimosa
Try this spectacularly pretty and pink twist on the much-loved cocktail.
INGREDIENTS
1 750 ml bottle sparkling rosé wine
3 cups pink grapefruit juice (pulp-free)
pink grapefruit wheels, for garnish
DIRECTIONS
Add chilled grapefruit juice to a large pitcher. Top with chilled sparkling wine – dry bubbles are classic, but if you prefer a sweeter cocktail, choose a sweeter wine. Gently stir the mixture and pour into flutes or coupes. Garnish with grapefruit wheels. Serves 4-6.
Prep time: 5 minutes
Difficulty: Easy
Serves: 4–6
Hollandaise Sauce
This classic sauce is easy to master, and always impresses. It's the magic ingredient for Eggs Benedict, of course, but it's also wonderful alongside fish and steak. Make sure you follow the directions exactly, and take your time with the final step. We promise it's worth it.
INGREDIENTS
1 cup unsalted butter
3 egg yolks
1 tbsp seasoned rice vinegar
2 tsp salt
1 tsp pepper
DIRECTIONS
Place butter in a tall container (a microwave-safe drinking glass works well) and microwave for roughly 1 minute or until melted. Set a medium-sized pot over low heat and add enough water to cover the bottom by roughly 3 cm. and bring to a gentle simmer. In a separate stainless-steel bowl, whisk egg yolks and vinegar together. Set over the pot with water and whisk constantly until the yolks just begin to thicken. Look for the wires of whisk to become lightly coated; this should take 1 to 2 minutes. Remove the pot from the heat but leave the bowl over the hot water. Immediately whisk in the melted butter very slowly – almost one drop at a time – to begin your emulsion. Season with salt and pepper.
To make Eggs Benedict, place poached eggs and warm sliced ham on top of a toasted English muffin. Top with Hollandaise.
Cook time: 10 minutes
Difficulty: Medium
Serves: Serves 4–6
Vanilla-Infused Icewine French Toast
This luxe-yet-simple French toast will wow your guests. It's actually amazing how easy it is to elevate French toast with a couple of extra, special ingredients, like fragrant vanilla beans and wonderful Icewine. Here, even the maple syrup gets a luxe upgrade. The whole dish comes together in just a few minutes, too. Match with Vidal Icewine for the perfect brunch pairing.
INGREDIENTS
1 egg, lightly beaten
2 egg whites
3 tbsp Vidal Icewine
1 tsp sugar
1 vanilla bean, split lengthwise
½ cup whole milk
1 tbsp unsalted butter
8 thick slices of baguette, cut on a diagonal
1 cup pure maple syrup
½ cup Vidal Icewine
icing sugar for dusting
DIRECTIONS
Place the egg, egg whites, 3 tbsp of Icewine, and sugar in a bowl and whisk to combine. Using the tip of a sharp knife, scrape the seeds from the vanilla bean into the egg mixture. Add milk and whisk until frothy.
Heat a large skillet over medium heat and melt butter. Dip a few pieces of bread into the egg mixture, soaking both sides well, and place in the skillet. Cook for 2 minutes on each side or until lightly golden. Repeat with the remaining bread.
Mix maple syrup with ½ cup of Icewine. Serve toast dusted with icing sugar and drizzled with maple-Icewine mixture.
Cook time: 10 minutes
Difficulty: Easy
Serves: 2
Spring Herb Salad with Lemon and Honey
Healthy, delicious and packed with flavour, this green salad is a gorgeous addition to any meal. The bright fennel and peppery arugula are the co-stars here, while the fresh herbs play their own important roles. The 3-ingredient dressing couldn't be simpler!
INGREDIENTS
1 bulb fennel with fronds attached
1 bunch each of fresh herbs (basil, tarragon, dill, chervil or parsley, and chives)
8 oz baby arugula
2 lemons, juiced
2 tbsp liquid honey
2 tbsp olive oil
DIRECTIONS
Pick the green fronds from the fennel bulb and reserve. Next, cut fennel in half vertically. Slice very thinly, preferably on a mandolin. Gently pick the leaves of the basil, tarragon, dill and chervil. Slice the chives very finely. Toss the arugula, fennel, fennel fronds and herbs together. Add in the lemon juice, honey and olive oil. Mix well. Season the salad with salt and pepper to taste. Tip: Add other ingredients such as radish and cucumber for extra crunch.
Cook time: 10 minutes
Difficulty: Easy
Serves: 4
French Macarons with Goat Cheese Filling
Brunch calls for a light take on dessert and these macarons suit the occasion perfectly. The cookies take the classic French sweet and give it a modern spin with a savoury goat-cheese filling.
INGREDIENTS
4 large egg whites
70 g caster sugar
230 g pure icing sugar
120 g almond meal
pinch of salt
flavour extract
gel food colouring, optional (for cookie)
300 g Woolwich Dairy CHEVRAI Soft Unripened Goat Cheese – Original or any flavoured CHEVRAI goat cheese
10 g sugar
1 g flavour extract
food colouring drops (for filling)
DIRECTIONS
Preheat oven to 300° F. Place egg whites and caster sugar in a bowl and mix with electric mixer until stiff enough to turn the bowl upside down without it falling out; continue to whip for 1–2 more minutes. Add food coloring and mix a further 20 seconds. Sift the almond meal, icing sugar and salt twice. Fold into the egg-white mixture. It should take roughly 30–50 folds using a rubber spatula. Pipe onto trays lined with parchment paper. Bake 20 minutes or until macarons come off tray cleanly. Cool completely before filling.
For the Filling
Bring goat cheese to room temperature, then add to mixing bowl with sugar, flavour extract and food colouring and blend until well combined. Pipe onto macaron. Top with second macaron.
Recipe by Woolwich Dairy Inc.
Cook Time: 20 minutes
Difficulty: Advanced