June 5, 2018 | Wine Culture | Great Estates Okanagan
What is the Perfect Wine for Father's Day?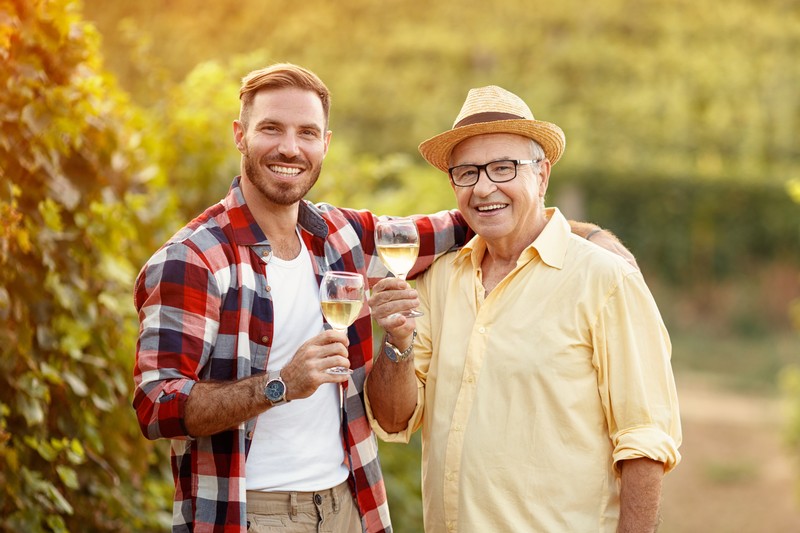 Matching Your Dad's Style to a Type of Wine

Looking for a last minute Father's Day gift? We've got you covered. Here's your guide to finding the perfect Father's Day wine gift - depending on the kind of Dad he is.
Grill Master
If your dad lights up inside every time he lights up the barbecue then turn to a red wine. If his go to is a big, juicy steak or a Flintstone-sized rack of ribs then you'll want to reach for one of the Okanagan's sumptuous Shiraz options. These will pair beautifully with pretty much any red meat he wants to throw on the BBQ. He'll be in grill-master heaven.
Old-School Dad
Nothing says classic vino like Chardonnay. But, guess what? Chardonnay is no longer old-school. It's one of the hippest new choices in wine now that it's overcome the bad rap it got back in the 90's. But, you don't need to tell Dad that - to him, a bottle of the Jackson-Triggs Grand Reserve Chardonnay or the Inniskillin Dark Horse Vineyard Chardonnay will simply represent a trusty bottle of white that he can enjoy with dinner or watching TV. And, if you happen to be joining him - you can enjoy it too. Not sure which one he'll like - check out this virtual tasting to help you decide.
Nerd
If your Dad is the thinking type, then give him the Steller's Jay Mountain Jay Brut. This wine has two great stories for your dad to nerd-out on. The first is the way they riddle the sparkling wine in the traditional Champagne style. This involves some pretty interesting science as the wine goes through the 'en tirage', 'riddling' and 'disgorging' stages.
The second nerdy fact about this wine is that the BC Wine Authority required Steller's Jay to change the name of the wine. If your dad loves a good semantics conversation, then he'll want to check out the reason for the name change.
Fit Father
If health is top of mind for you paternal leader, slip him a nice bottle of Pinot Noir this Father's Day. Red wine contains resveratrol, an antioxidant that some studies found may help heart health when consumed in moderation. And that's the other reason that this is the perfect wine for your health-conscious Dad - it's a real sipper. A wine like the Nk'Mip Cellars Winemaker's Pinot Noir is perfect to pour into a big, round glass and enjoy slowly over the course of a relaxing evening.
Fisherman
If your dad loves to fish, and more importantly, loves to eat what he catches then a bottle of Jimmy My Pal from See Ya Later Ranch is going to make him very happy. It's a blend of Chardonnay and Pinot Gris that is light and fresh. Plus, it's got hints of citrus and lychee that are sure to make his catch of the day sing.
Romantic
If your father wears his heart on his sleeve then you've got to go with a Rosé - try the Nk'Mip Cellars Winemaker's Rosé or for a romantic morning of breakfast in bed, he might like the Steller's Jay Sparkling Shiraz for a unique take on the classic mimosa. Either way, he'll be feeling the love on Father's Day.
Adventure Dad
If your father loves to get out and have adventures, then don't give him a bottle of wine - give him a wine experience! Our wineries have a variety of great food and wine experiences like Bubbles and Bites at Steller's Jay, lunch on the patio at See Ya Later Ranch, The Land to Legacy Tour at Nk'Mip Cellars (perfect if your dad is into history and culture) and the food and wine pairing experiences at Inniskillin. You can reserve an experience for the two of you to enjoy together or give him a gift certificate that he can take advantage of another time.
Whether it's your Dad or the Dad in your life, no matter what kind of wine-style he has, we hope he has a Happy Father's Day.
Comments
Commenting has been turned off.