August 22, 2018 | Great Estates Okanagan
Okanagan Peach Pie and Wine Pairing that will Make Your Day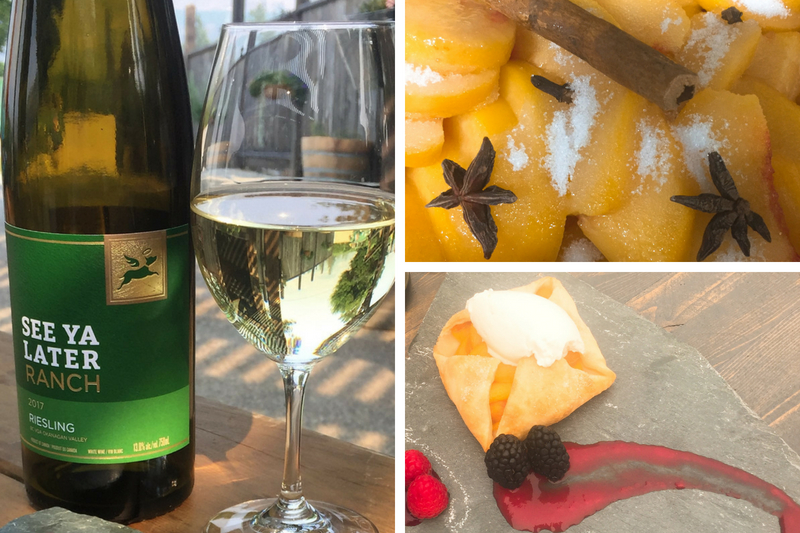 Scrumptious and Seasonal Dessert Recipe Paired with Riesling
Aside from being a great wine producing region, the Okanagan is also known for its orchards. And one of the tastiest fruits to come from those orchards are peaches.
Great Estates Okanagan Chef, Ben Overland, has taken those beautiful, juicy peaches and baked them into perfect little personal-sized pies. Pair this with a glass of Inniskillin Riesling Icewine and you've got a delightful dessert or with See Ya Later Ranch Riesling for a sophisticated afternoon snack.
Here's the recipe for Okanagan Peach Pie (makes about 12 personal-sized pies).
Ingredients for pie crust:
5 cups All-Purpose Flour
1 lb Cold Butter, cubed
1 Egg
1 tbsp White Vinegar
½ cup Ginger Ale
Ingredients for filling:
2 lbs Fresh Peaches
2 tsp Cinnamon
1 tsp Nutmeg
¼ cup Corn Starch
Method:
Preheat oven at 350°F.
Start by preparing the crust.
Combine flour and butter in electric mixer until mealy.
Slowly add wet ingredients to form a dough.
Cover and let rest at room temperature while you prepare the filling.
Peel and slice peaches into evenly sized pieces.
Toss peaches with cinnamon and nutmeg and sifted cornstarch.
Place peaches in a pot and slowly cook over medium heat for about 15 - 20 minutes.
Strain cooked peaches, setting liquid aside.
While peaches are cooling, roll out pie dough (on a lightly floured surface) to ¼ inch thickness.
Cut dough into 6-inch square pieces.
Place cooled peaches into the centre of the dough square and fold corners into the middle. Be careful not to overfill.
Place pies on a parchment-lined baking sheet and bake at 350°F for about 12 minutes until golden.
While pies are baking, over medium/high heat, reduce the reserved peach juice to syrup constancy. Be careful not to burn it.
Once pies are cooked and cooled, drizzle with syrup, and top it with a scoop of locally made ice cream. For example, you could try the vanilla gelato from Parlour in Kelowna or a scoop of cinnamon gelato from Roberto's in Osoyoos.
Serve with See Ya Later Ranch Riesling or Inniskillin Riesling Icewine.
Comments
Commenting has been turned off.