April 8, 2019 | Entertaining | Great Estates Okanagan
How to Host the Best Blind Wine-Tasting Party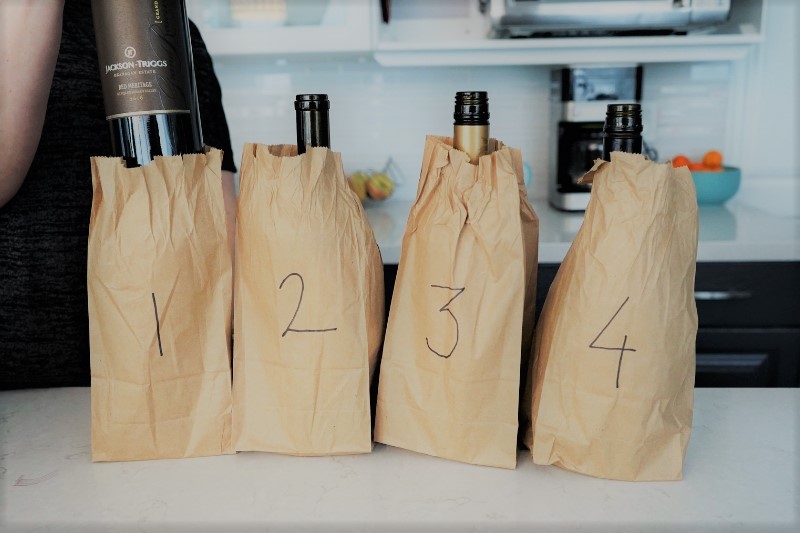 Preparing a Wine and Cheese Party at Home
You love wine. You have friends that love wine. So, why not have them over for a wine and cheese party with a twist? The twist is, they'll be tasting the wine blind.
No need for blindfolds. The wine will be wearing the disguise.
Why would you want to do a blind wine tasting? For the same reason that judges at wine competitions do. Not knowing the wine forces you to really consider what you're tasting. It eliminates any preconceptions you might have about a certain brand or varietal. Plus, it's a great spark for a lively conversation and isn't that what parties are all about?
Here is how you host a blind wine-tasting night.
Plan on having 8 to 12 guests attend. This will give you 8 to 12 bottles of wine to try.
Have each guest bring a bottle of wine from any wine growing region in the world. Set a limit on the bottle price so the wines have a level playing field.
When your guests arrive, make sure that their bottles of wine are brown bagged. You don't want to be able to see the label which will give away the varietal and the country of origin.
Hand your guest a glass of sparkling wine. It's always a nice welcome but it will also help to open up and rejuvenate the guest's palate before the cheese and wine tasting begins.
Have a sharpie or marker by the front door. When you receive the bottle, put a number on the brown bag. It's best if the guest doesn't see the number or they might have an advantage. Remove the cork too, as it might contain a clue.
Once everyone has arrived, put the bagged bottles on a table where all guests will have accessibility to them. Make sure there's room for a cheese board as well as an assortment of baguette, crackers, and crostinis. You might also want to add a charcuterie plate to the table to make more of a meal out of the event.
If you opt to include a charcuterie platter, here is what Stephen Ward, the Experience Manager at the Wine Experience Center in Penticton suggests:
Prosciutto
Capocollo
Dried Chorizo
Peppered Salami
Soppressata
Porchetta
Cornichons
Pearl Onions
Roasted Red Peppers
2 Types of Mustard
2 Compotes
For the cheese board, he suggests including an assortment of cheese from around the world. Ensure that they reflect hard cheeses, soft cheeses, mild and sharp cheeses, and smoked cheeses (each being expressive of its own style and taste profile).
Here is his list of suggested cheeses:
Double or Triple Cream Camembert or Brie
Manchego
Emmental
Smoked Gouda
Aged English White Cheddar
Parmesan
Asiago
Tiger Blue
Creamy Gorgonzola
Gouda
Mozzarella
Caciocavallo
Once all of your guests have arrived and enjoyed a glass of sparkling, it's time to get the party started.
Provide a scorecard that lists the wines as # 1 through however many are to be tasted. Everyone tastes the same wine at the same time, starting with #1.
Guest can discuss the wine and then make notes on what they liked, which cheese it paired best with, and eventually select their favourite. Remind your guests that there are no right or wrong impressions - they should each be true to their own preference and palate.
The evening wraps up when all of the wines have been tried and scored. Then, the wines can be removed from their paper bags. Everyone will find out which wine was theirs and how their wine was scored by the group.
It's fun to keep it light and casual but you could also 'make things interesting' with a wager.
Here's what you might try - the person whose wine scores the least amount of points is obligated to host (and cater) the next cheese and wine party!
This extra wager ensures that people pick the wine they are going to champion very carefully. Plus, it means that, in addition to everyone having a great evening enjoying a variety of wines delicious cheese, they also get to look forward to the next blind wine-tasting party.
You and your friends can definitely make a habit of this!
Comments
Commenting has been turned off.