July 24, 2018 | Great Estates Okanagan
BBQ Tuna with Fresh Cucumber, Melon & Arugula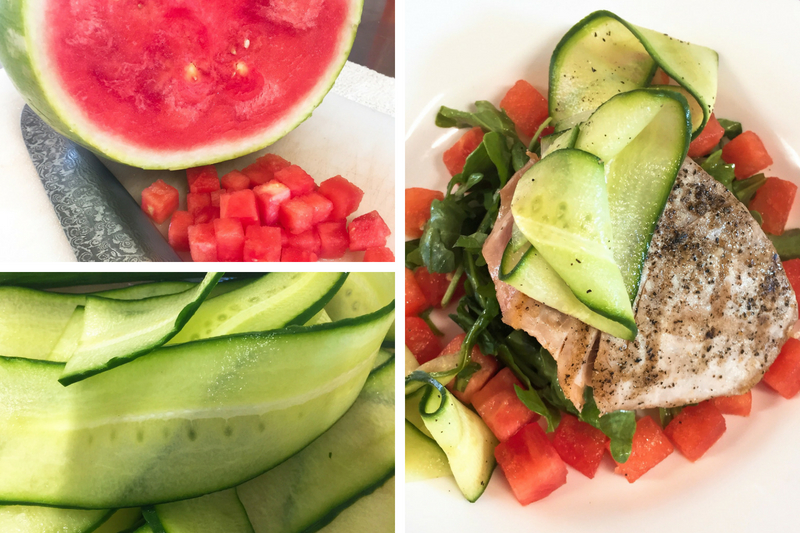 Pairing Fish with Gewurztraminer (from See Ya Later Ranch)
When it's hot outside you want a nice light meal that isn't going to take hours in front of a hot stove. We turned to Great Estates Okanagan Chef, Ben Overland for some ideas.
What he's delivered is simple yet sublime - a watermelon, cucumber, and arugula salad topped with freshly grilled tuna. The salad is perfect for beating the heat. Plus, because the fish is done on the barbecue, the chef can stay nice and cool too. And, yes, it is as delicious as it sounds.
Here's the recipe (serves 4).
Ingredients:
4 Tuna Steaks (fresh is best, size should match the appetites you're serving)
1 Cucumber
1 Watermelon (small)
Fresh Arugula
1 tbsp Rice Wine Vinegar
4 tbsp Olive Oil (divided)
Salt & Pepper
Method:
Pull tuna out of the fridge, rub with 1 tablespoon of olive oil. Season generously with salt & pepper. Let temper for 30 minutes.
Heat BBQ to 450° F.
Cut watermelon into bite-sized cubes (remove rind). Place in a refrigerator.
Use a vegetable peeler to create long, thin ribbons of cucumber. Drizzle cucumber ribbons with rice wine vinegar & season lightly with salt & pepper. Place in a refrigerator.
Once BBQ is hot, place tuna steaks on the grill. Flip steaks each minute to create nice hash marks. Cook with the lid open. The size and thickness of your tuna steak will determine the cook time. Generally speaking, you want to grill tuna for 3 minutes for rare steaks. Add another minute for medium rare. And, another minute for medium or a full 6 minutes for tuna steaks that are well done.
Remove tuna from the grill and allow it to rest while you prepare the plates.
In a bowl, gently toss arugula with olive oil, vinegar, salt & pepper. Divide dressed arugula evenly between the 4 plates. Garnish with chilled watermelon cubes.
Slice tuna steaks on a bias (on an angle). Lean pieces against the greens. Pile cucumber ribbons on top to form a nest.
To finish, drizzle the entire dish with any watermelon juices that may have leaked out.
Sprinkle with fresh cracked pepper to taste.
We highly suggest you enjoy this meal with a glass of See Ya Later Ranch Gewurztraminer. This award-winning wine is light, crisp and clean (just like the salad). The peppery arugula, the sweetness of the watermelon, and the smokiness of the barbecued fish are all accentuated by the juicy acidity and the bright bouquet of the Gewurztraminer. This is the perfect summer meal.
We hope you enjoy this recipe! We'd love to see a photo of your meal on social media channels - please share them and tag us or use #GreatEstatesOkanagan so we don't miss them.
Now, if this strikes you as too much work on a hot summer evening, we've got you covered. Chef Ben has added this dish to the menu at See Ya Later Ranch. Drop by the patio and give it a try.
Comments
Commenting has been turned off.