Nk'Mip Cellars Patio Restaurant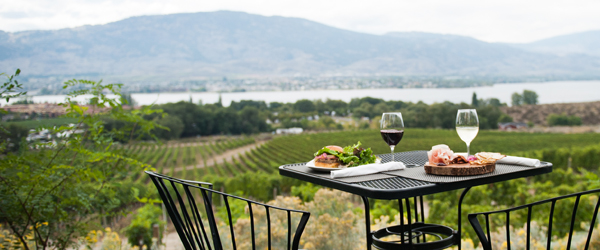 April 27 – October 8 | 11:30 am - 4:00 pm | Daily
The Patio offers contemporary North American cuisine in a picturesque location, with fresh Farm-to-Table innovations using traditional Aboriginal techniques.
We gladly accept Patio Restaurant reservations from 11:30am to 1:00pm, after which we seat on a first-come, first-served basis.
July 2 – September 30 | 4:00 pm - 7:00 pm | Sunday – Thursday
Enjoy a glass of Nk'Mip award winning wine and a light snack while taking in the breathtaking view of the sun setting over Osoyoos Lake. The Sunset Wine Lounge offers guests the opportunity to relax on our Patio during the post-lunch, pre-dinner period of the day; the perfect time to share a bottle of wine and a cheese plate with Friends!
The Sunset Wine Lounge is walk-in only.
Long Table Dinner
July 1 – September 23 | Time TBD | Friday – Saturday
$50 per person (+ tax & grat)
Wine pairings for additional charge
Celebrate the summer weather with old friends and make new ones! Enjoy a specially prepared 3 course menu served family style in a long table setting. Weekly themed menus are developed by our Chef based on local, seasonal ingredients; celebrating the bounty of the Okanagan.
Reservations required minimum 24 hours in advance