Sunday Afternoon Tasting Extra Ticket | Vancouver Wine Club Party
3:00pm - 5:00pm October 15th, 2017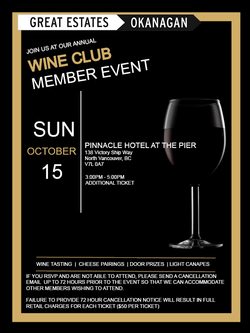 2017 Great Estates Okanagan Member Party in Vancouver
Where: Pinnacle Hotel at the Pier
138 Victory Ship Way, North Vancouver
When: Sunday, October 15th, 2017
Time: 3:00 pm - 5:00 pm
Price: $30.00 per person
Tickets for this event are limited so get your tickets now to avoid disappointment. If it is sold out and you wish to be added to a waiting list please email your name and phone number to info@greatestatesokanagan.com.
These tickets are for you to bring friends. If you reserved your two complimentary tickets and wished to bring additional guests, please purchase a ticket per guest and share the experience with your friends or family.
How Do I Get My Tickets?

After going through our checkout, your tickets will be emailed to you. Please print off the PDF file, ensuring there is an individual ticket for each of the tickets you purchased.
Where Does The Event Take Place?

The event will take place at the Pinnacle Hotel at the Pier in North Vancouver
What Should I Wear?

This event requires Dressy Casual attire.
What Is Ticket Cancellation Policy?

If you are not able to attend, please cancel up to 72 hours prior to the event, so that we can accommodate other members wishing to attend. Failure to provide cancellation notice, will result in full retail charges for each ticket purchased ($30 each).