ESTATE WINERY EVENTS
The Great Estates Okanagan Wineries are open year-round. Planning to visit us? Check the links to find out what's happening in the Okanagan when you will be in the area.
August 2014
Yoga Under the Sun
9:30 AM
Tue, Aug 5, 2014 - Thu, Aug 28, 2014
Venue:
Sumac Ridge Estate Winery
Contact:
info@sumacridge.com 250-494-0451
Join us for Yoga classes overlooking the vineyard during the month of August every Tuesday and Thursday at 9:30am
$12 +tax for pre-registration
+tax for drop-ins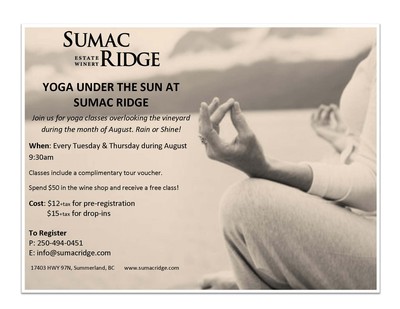 Dog Days of Summer
12:00 PM to 4:00 PM
Sat, Aug 30, 2014
Venue:
See Ya Later Ranch
Contact:
See Ya Later Ranch 250-497-8267,
info@sylranch.com
Join us for an afternoon of family fun at our vendor market with wine tasting and the doggy fashion show! Four pawed friends are very welcome.
Phone See Ya Later Ranch at 250-497-8267 for more information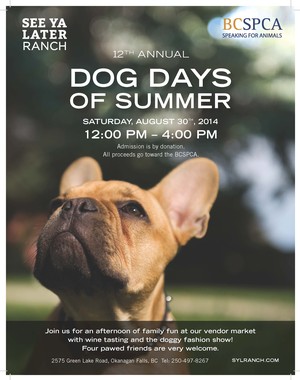 September 2014
The Ultimate Wine Country Experience
Fri, Sep 26, 2014 - Tue, Sep 30, 2014
Venue:
Okanagan Valley
Contact:
Experience Wine Country Experience Reprentative 1-877-433-0451 ext 241,
experiencewinecountry@greatestatesokanagan.com
Experience unparalleled Okanagan hospitality with this 4 night, 5 day wine & culinary escape to the Great Estates Okanagan, a collection of 7 of the Okanagan's most renowned wine brands. Stay in luxurious accommodations and see some of the most stunning vineyards vistas. Connect with the fascinating people who are passionate about their craft and excited to share with you and other wine enthusiasts, our world class wines and locally sourced and inspired creations.

The Ultimate Wine Country Experience package includes:
4 nights at Spirit Ridge Vineyard Resort or Spa and Summerland Waterfront Resort
4 breakfasts
2 exquisite vineyard wine paired lunches at SunRock Vineyard and See Ya Later Ranch
3 unique wine and food pairing dinners, including a Winemaker's dinner at Nk'Mip Cellars , Talons Restaurant at Spirit Ridge, and a Progressive wine & food evening at Sumac Ridge Estate Winery
Transportation to and from winery events, with optional scheduled airport transfers

Rate: $1,900 per person includes airport transfers* or $1,800 per person without airport transfers*
Book by contacting: experiencewinecountry@greatestatesokanagan.com or call 1-877-433-0451 ext 241

*Transportation provided by Landsea Okanagan
* Rates based on double occupancy