Wild Leek & Potato Soup with Wilted Leek Greens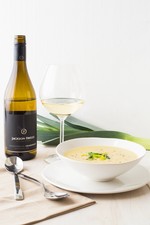 Recipe Date:
April 28, 2016
Measurements:
Imperial (US)
Ingredients
3 tbsps butter
1 medium onion, diced
18 wild leeks or 3 farmed leeks, green tops reserved and whites roughly chopped
2 garlic cloves, minced
3 potatoes, peeled and roughly diced
8 cups vegetable stock
salt & pepper to taste
1 tbsp olive oil
Directions
Melt butter in a medium sized pot over medium high heat. Add the onion, the whites of the leeks and garlic, cook while stirring constantly for 2-3 minutes, or until the vegetables begin to soften. Add in potatoes and vegetable stock. Turn the heat to medium-low, cover with a lid and simmer until the vegetables are completely tender (roughly 30 minutes). Clean the leek greens, cut into thin strips and reserve. Transfer the soup to a blender. Blend on high speed for at least one minute to ensure a smooth texture. Season with salt and pepper. Add additional stock or water to adjust consistency if needed. Returnthe soup to a clean pot and keep warm over low heat. Heat a small pan over medium high heat. Add in the olive oil and leek greens. Cook until just wilted, then use the leeks and olive oil to garnish the soup.