Waldorf Salad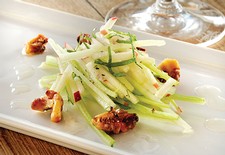 Measurements:
Imperial (US)
Ingredients
2 granny smith apples, peeled and julienned
4 stalks celery, peeled and julienned
1/4 cup chopping walnuts
2 tbsps olive oil
2 tbsps Vegetable oil
1 tsp pommery mustard
2 tbsps riseling
2 tbsps rice wine vinegar
1 tsp sea salt
1 tsp black pepper
salt and pepper to taste
Directions
Vinaigrette
Whisk wine, vinegar and mustard until combined, drizzle in oils until lightly emulsified. Season with 1 tsp salt and 1 tsp pepper.
Salad
Toss apple, celery and nuts with the vinaigrette and serve. Salt and pepper to taste. Garnish with tender celery leaves.

Pair with an off-dry aromatic white such as Riesling or Gewürztraminer.