Vidal Onion Tart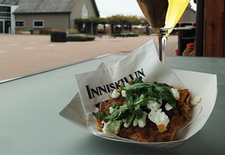 Measurements:
Imperial (US)
Ingredients
1 puff pastry sheet (12x6 inches)
6 large white onions, thinly sliced
1 bunch of thyme, stripped from stems and chopped
2 cups fresh Woolwich goat cheese
2 cups arugula
3 tbsps olive oil
100ml of Vidal Icewine
375ml bottle of Vidal Icewine reduced down to 100ml (for Vinaigrette)
3 tbsps white vinegar (for Vinaigrette)
300ml canola oil (for Vinaigrette)
salt, pepper & sugar to taste (for Vinaigrette)
Directions
To make the Icewine Vinaigrette place reduced Icewine (100ml) and white vinegar in a bowl start whisking. Add canola oil very slowly while whisking. Once all oil is incorporated season with salt pepper and sugar to taste.

To make the Vidal Onion Tart start by preheating the oven to 400 degrees F.

Let frozen puff pastry defrost until soft on baking sheet. Lightly prick entire pastry with a fork and place pastry in the oven for 15 minutes or until golden brown. Once cooked (while the pastry is still hot) flatten by placing a second baking sheet on top of the puff pastry and press down; be careful of steam when pressing.
Add olive oil to a 6 litre pot. Once hot, add in all the sliced onions and keep stirring until all onions are translucent. Turn pot down to medium heat and continue stirring and scraping the brown caramelized bits off the bottom of pot with a wooden spoon. Onions should take about 30 minutes to become dark golden brown and sweet. Finish onions by adding in 100ml of Icewine the and thyme.
Spread the cooled caramelized onions across pastry evenly, then crumble goat cheese on top and finish tart by dressing arugula in Icewine vinaigrette (directions above) and placing on top of tart.