Soy Stained Prawns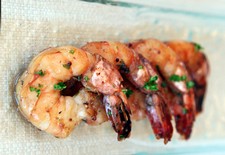 Measurements:
Imperial (US)
Ingredients
12 large prawns, peeled and deveined
2 tbsps grainy mustard
2 tbsps soy sauce
1/2 a lime, juiced
1 garlic clove, finely sliced
1 tbsp cilantro, chopped
1 tbsp thai (or green) basil, chopped
1 tbsp unsalted butter
salt and pepper to taste Edit
Directions
Combine all ingredients together, let marinate for 10 minutes in fridge. Melt butter over medium heat in sautee pan until bubbling. Add prawns and sautee until just cooked through, approximately 1 minute per side. Garnish with chopped cilantro and basil.

Serve as an appetizer warm or chilled. Pair with a sparkling wine to create the perfect apéritif pairing.