Southwest Bean Salad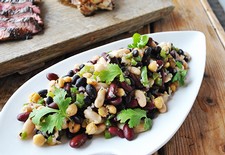 Measurements:
Imperial (US)
Ingredients
1/2 cup white wine vinegar
1 1/4 cups olive oil
4 tbsps lime juice
3 tbsps white sugar
2 tsps ground cumin
2 tsps salt
1 tsp pepper
2 cups cooked white kidney beans
2 cups cooked kidney beans
2 cups cooked black beans
3 cups green peppers, seeded, grilled, and diced
1/2 cup red onion, finely diced
1/4 cup cilantro, roughly chopped Edit
Directions
Cumin And Lime Vinaigrette
Whisk together vinegar with lime, cumin and sugar in a stainless steel bowl. Slowly whisk in oil to establish a ratio of 3 parts oil to 1 part acidic base. Season with 2 tsp salt and 2 tsp pepper.

Southwest Bean Salad
Toss bean mix, green pepper, onion, cilantro, and vinaigrette together and season with salt and pepper.

Pair with an aromatic white wine such as Pinot Gris/Grigio, Sauvignon Blanc, or Riesling.