Root to Tip Radish Salad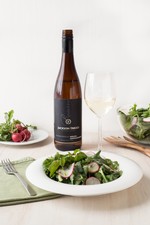 Recipe Date:
April 28, 2016
Measurements:
Imperial (US)
Ingredients
10 -12 radishes with their greens attached
6 cups baby arugula
6 cups baby kale
1 bunch basil (purple or green)
1 bunch chives
1/2 cup warm butter vinaigrette (recipe below)
salt & pepper to taste
1/4 cup salted butter
2 tbsps white wine vinegar
1 tbsp Dijon mustard
1 tbsp honey
2 tsps truffle oil, optional
2 tsps truffle paste, optional
Directions
Cut the radish greens from the root, rinse and place the greens into a large bowl with arugula and kale. Slice the radish root very thinly, preferably using a mandolin. Gently peick the basil leaves and slice the chives very thintly. Toss the greens with sliced radishes and herbs. Add the warm butter vinaigrette to the greens and mix well. Season the salad with salt & pepper to taste.
Warm Butter Vinaigrette
Melt the butter in a small pan over low heat. Once melted, whisk in white wine, vinegar, mustard and honey. If using, add truffle oil and truffle paste. Use this vinaigrette while warm.