Red Wine Barbecue Sauce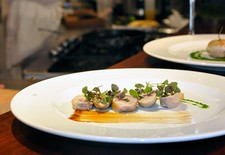 Measurements:
Imperial (US)
Ingredients
1 medium onion, diced
1 garlic clove, minced
1 tsp vegetable oil
1 tsp ground cumin
1 tsp ground coriander
1 tsp sweet paprika
1 tbsp smoked paprika
1/2 cup Syrah, Meritage, or Cabernet Franc
1/2 cup ketchup
2 tbsps worcestershire sauce
Directions
Sweat onions and garlic in a sautee pan with oil. Add dried spices, cook until spices are lightly toasted and aromatic. Add remaining ingredients. Simmer until onions are tender and sauce has a lacquered look to it. Cool and puree in a blender. Store in airtight container in the fridge. Sauce will last up to two weeks. This recipe makes 1 cup of sauce.