Leek & Triple Cream Brie Quiche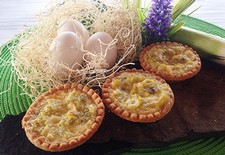 Measurements:
Imperial (US)
Ingredients
1 medium leek (white portion only), sliced
1 jalapeno, seeded and finely diced
1 cup bacon, crisped and crumbled
3 tbsps unsalted butter
1 clove garlic, minced
2 cups 35% cream
4 egg yokes
1/2 cup Brie cheese, rind removed
24 small, good quality tart shells (if the tart shells need to be pre-baked, follow instructions on the package)
Directions
Slice the leeks in half lengthwise and rinse under cold water then slice into thin strips. Finely mince up the garlic.
In a small skillet, over medium heat, melt your butter until it just starts to sizzle. Add in your leeks and cook until tender. Add the garlic and jalapeno; cook 1 minute longer. Remove from heat and allow to cool.
In a large mixing bowl whisk together the cream and eggs. Add the cooked bacon, leeks, jalapeño and garlic to the egg mixture. Stir to combine and season with salt and pepper.
Place baked tart shells on a baking sheet. Slice cheese into 24 pieces; place one piece in each tart shell, then top with leek mixture. Bake at 350° for 20-25 minutes or until the quiche is just set.
Allow the quiches to rest for 10 minutes before serving.