Leek & Goat Cheese Quiche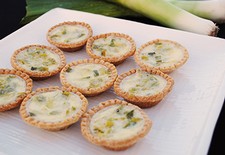 Measurements:
Imperial (US)
Ingredients
4 large eggs
1 cup 35% cream
1 cup 2% milk
8 ozs goat cheese, room temperature
2 leeks, sliced, rinsed and strained
3 cloves of garlic, minced
2 tbsps unsalted butter
1/4 cup white wine
20 4" savory short crust tart shells pre-cooked as per package instruction
Directions
Preheat oven to 300ºF. Spoon 2 tbsp of butter into a medium pan. Melt over medium high heat. When melted add in the garlic and leek. Cook, stirring constantly, for 5 minutes or until the leeks are tender. Season with salt and pepper, then add in the white wine. Continue to simmer until the wine has reduced by 3/4. Remove from the heat and place in a bowl. Allow the leek mixture to cool to room temperature. Combine eggs, cream, milk and cheese in a bowl and whisk until smooth. Divide the leek mixture evenly amongst the tarts. Finish by filling with the goat cheese custard, it should take roughly 2-3 tbsp of mix to fill each tart. Bake in the oven until the custard is just set, roughly 20 minutes. Allow to rest for 10 minutes before enjoying.