Hubbard Squash Biscuit, Icewine Bacon, Smoked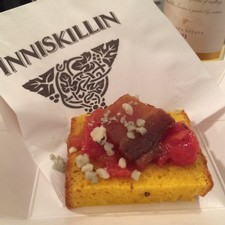 Measurements:
Imperial (US)
Ingredients
2 1/2 cups all purpose flour
2 tbsps sugar
1 tbsp baking powder
1 tsp salt
1/2 tsp ground black pepper OR red chili flakes
1/4 cup unsalted butter, melted
1 cup Hubbard squash puree
1/4 cup milk
1 egg
Directions
Preheat you oven to 400 degrees Fahrenheit. Prepare a muffin tin with softened butter or olive oil. In a medium bowl combine flour, sugar, baking powder, salt and pepper. In a large bowl, whisk together the Hubbard squash puree, melted butter, milk and egg. Add the flour mixture into the squash mixture and stir until well combined. Spoon roughly 2oz portions into each muffin cup (an ice cream scoop works well).
Bake for roughly 15-20 minutes or until the biscuits are lightly browned and puffed. Allow to cool slightly then remove from the muffin tin.
Cut the biscuits in half and fill with crispy bacon, smoked blue cheese and tomato chutney.