Hollandaise Sauce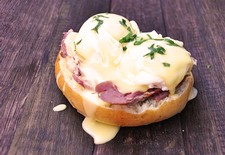 Measurements:
Imperial (US)
Ingredients
3 egg yokes
1 cup unsalted butter
1 tbsp seasoned rice vinegar
2 tsps salt
1 tsp pepper
Directions
Place your butter in a tall container (a drinking glass works well) and microwave for roughly 1 minute or until melted. Set a medium sized pot over low heat and add enough water to cover the bottom by roughly 3cm. bring to a gentle simmer. In a stainless steel bowl, whisk egg yolks and vinegar together. Set over the pot and whisk constantly until the yolk just begin to thicken. Look for the wires of whisk to become lightly coated; this should take 1 to 2 minutes. Remove the pot from the heat but leave the bowl over the hot water. Immediately whisk in the melted butter very SLOWLY, almost one drop at a time to begin your emulsion. Season with salt and pepper.
To complete the eggs Benedict place poached eggs and warm sliced ham on top of a toasted English muffin. Top with your hollandaise. You can also use this sauce as a great accompaniment to fish or steak.

Pair with a glass of sparkling wine, cheers!