Grilled Ribeye With Blue Cheese Butter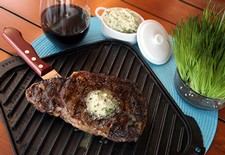 Measurements:
Imperial (US)
Ingredients
2 ribeye steaks, each 1 1/2" thick
3/4 cup unsalted butter, softened
1/4 blue cheese, crumbled (Blue Benedictine or similar)
2 tbsps chives, chopped
1 tsp salt
1 tsp pepper
Directions
In a small bowl combine unsalted butter, blue cheese, chives, salt, and pepper. Mix until cheese is well incorporated into the butter. Compound butter can stay in freezer up to a month in an airtight container. This recipe makes 1 cup of butter.

Before cooking remove meat from fridge at least half an hour before cooking, bringing the meat to room temperature will allow even cooking.
Preheat your BBQ or grill pan. Generously season your steak with kosher salt and fresh cracked pepper. Grill on each side for approx 5 minutes only turning once, allow to rest for half the cooking time before serving, this will allow the meat to retain most of the juices. Garnish with blue cheese butter and serve with your favorite side dish.

Serve with a rich and robust red such as Cabernet Franc, Merlot, or Meritage.