Grilled Mushroom Salad With Juniper Icewine Vinaigrette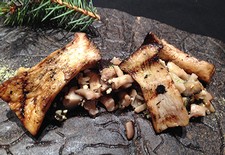 Measurements:
Imperial (US)
Ingredients
6 portobello mushrooms, stalks remover
2 cups oyster mushrooms, picked apart
18 shitake mushrooms, stalks removed
1 cup smoked cheddar, crumbled
1 lb baby greens of choice
2 2 shallots, sliced
2 cloves of garlic, sliced
1 tbsp black peppercorn
1 bay leaf
1 cup Vidal Icewine
1/2 cup white wine vinegar
2 tsps ground juniper
2/3 cup olive oil
Directions
Juniper Icewine Vinaigrette
Place a small pot over medium high heat; add in 2 tsp of olive oil. When hot, add in the shallots and garlic. Cook for 1 minute, stirring constantly. Add in Icewine, vinegar, peppercorns and bay leaf. Reduce until roughly 1/3 cup of liquid remains.
Strain into a medium bowl and let cool slightly. When cool, add the ground juniper and whisk in the olive oil to emulsify the dressing. Adjust seasoning with salt and pepper.

Grilled Mushroom Salad With Smoked Cheddar
Preheat your barbecue to high. Toss the mushrooms with olive oil, salt and pepper. Grill the mushrooms until tender.
Toss together the warm mushrooms with, baby greens, cheddar and 1/3 cup of vinaigrette. Season with salt and pepper.