Grilled Asparagus with Goat Cheese Aioli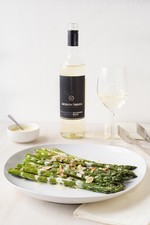 Recipe Date:
April 28, 2016
Measurements:
Imperial (US)
Ingredients
1 large bunch of asparagus
1/4 cup olive oil
Salt & pepper to taste
1 cup goat cheese aioli (recipe below)
1 cup crispy shallots (available at most Asian grocery stores)
1 egg yoke
2 tbsps white wine vinegar
1/2 cup olive oil
1/4 cup fresh goat cheese
1 tbsp roasted garlic
1/2 lemon, juiced
Salt & pepper to taste
Directions
Preheat your barbecue to high heat. Break off the bottom of the asparagus stalks, roughly 1" from the base. This lower portion of the stalks is 'woody' and need to be removed. Clean the asparagus by rinsing in cold wanter and drain. In a large bowl, toss the asparagus in olive oil and season with salt and pepper. Grill over high heat fro roughly four minutes, or until just tender. Remove from grill and cut into bite sized pieces. To finish, top the asparagus with crispy shallots and serve with goat cheese aioli on the side.
Goat Cheese Aioli
Add egg yolk, vinegar and 1 tsp of warm water to a food processor. Turn the food processor on low and begin to add the olive oil slowly in a very thin stream. Next add the goat cheese, garlic and continue to blend until well combined and smooth. Season with lemon juice and salt and pepper.