Grilled Asparagus Salad With Shaved Parmesan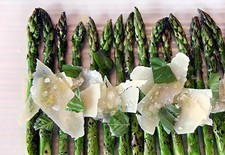 Measurements:
Imperial (US)
Ingredients
1 bunch asparagus
2 tbsps extra virgin olive oil
1/2 tsp fleur de sel (sea salt)
1/4 tsp black pepper
8 basil leaves, torn
a few pieces of shaved parmesan cheese
Directions
Preheat BBQ or grill pan to high heat. Trim woody stem off of asparagus (about 2 inches). Toss in 1 tbsp olive oil, 1/4 tsp each of salt and pepper. Place on hot grill and cook until gently charred on all sides (about 3 minutes) or until asparagus is tender.
Plate asparagus. Using a vegetable peeler, shave parmesan over the top of the salad. Drizzle with remaining olive oil and garnish with fleur de sel and basil leaves.

Try serving with a Sauvignon Blanc.