Goat Brie Cheeseburgers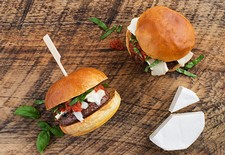 Recipe Date:
May 13, 2016
Measurements:
Imperial (US)
Ingredients
165g Woolwich Dairy Goat Milk Brie
4 fresh large burger patties
3/4 cup salsa
2-3 tbsp fresh basil, finely chopped
1 tbsp olive oil
4 Ciabatta or burger buns
Directions
Slice Woolwich Dairy Goat Milk Brie into quarter inch strips.
Cook burgers on the barbecue. Once cooked, lay the goat brie strips on each patty.
Spoon the salsa and basil on top and drizzle with olive oil.
Reduce heat and close the lid to allow toppings to warm through.
Serve on toasted buns.

Photo & Recipe By Woolwich Dairy Inc.