Fresh Shucked Oysters With Icewine Mignonette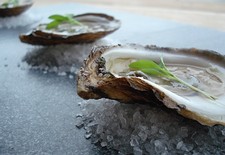 Measurements:
Imperial (US)
Ingredients
1/2 cup vidal Icewine
1/4 cup red wine vinegar
2 tbsps finely diced leeks
2 tbsps finely diced shallots
salt and pepper to taste
Directions
Combine Icewine & leeks in a saucepan, reduce by half, cool. Add remaining ingredients, season to taste. Store in airtight container in the fridge. The mignonette will keep
up to 2 weeks. Serve with your favourite fresh shucked oysters. This recipe makes 1/2 cup mignonette.

Pair with a celebratory glass of sparkling wine!