Crab Cakes With Corn & Fennel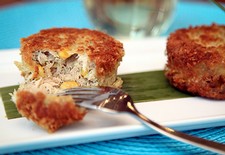 Measurements:
Imperial (US)
Ingredients
1 lb jumbo lump crab meat (or backfin)
2 tbsps mayonnnaise
2 tbsps unsalted butter
1/2 cup fresh corn kernels (or frozen)
1/2 cup fennel, finely ficed
1/2 tsp salt
1/4 tsp pepper
2 + 1 eggs, lightly beaten
1 tbsp tarragon, chopped
1/2 cup panko breadcrumbs
1/2 cup flour
Directions
Sautée corn and fennel until tender in 1 tbsp of butter, cool, and set aside. Combine crab, 2 eggs, vegetables, mayonnaise, tarragon, salt, and pepper until everything is well incorporated. Form into 4 equal size portions and create a puck shape. Chill pucks in the refrigerator for 10 minutes to set. Dredge in flour, egg, and then into panko breadcrumbs. Sautée in 1 tbsp of butter on medium-heat on both sides until golden brown, approximately 3 minutes per side. Serve with a green salad for an entrée or make mini cakes for a great hors d'oeuvre.

The crisp fruit flavours in a Pinot Gris or Pinot Grigio are natural pairings with seafood.