Country Pâté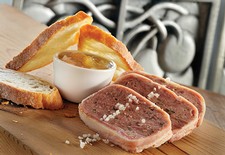 Measurements:
Imperial (US)
Ingredients
2.5 oz organic pork liver
1 tsp four spice
2 shallots, dried
2 cloves garlic, finely minced
1/2 green apple
1 bay leaf
1 small bunch of parsley, chopped
1 small bunch of thyme, chopped
1/4 cup brandy
1/4 cup duck fat (or butter)
1 tbsp kosher salt
1/3 cup 35% cream
1 1/2 tsps all purpose flour
2 tbsps all purpose flour
6 strips cold smoked bacon
Directions
Preparation
Chill any grinding attachments and bowls in the freezer for 20 minutes before beginning. Also ensure all of your ingredients are just above freezing before combining together. A day in advance, roughly dice up your pork, toss with four spice and chopped thyme. Leave it to sit overnight in the refrigerator. Pre heat your oven to 300ºF.

Lining Terrine Molds
Lay out enough plastic wrap so it will overhang the terrine mold on all sides, enough to cover the top. Flatten out bacon with the back of a knife and lay it just overlapping each other on the plastic wrap. Moisten the inside of the terrine mold with a bit of water and carefully lift the plastic wrap and bacon into the mold. Refrigerate until needed.

Brandy Reduction
Finely dice your shallots, mince garlic and grate the apple over a box grater. Gently sweat off shallot and garlic in 1/3 of the duck fat until translucent. Add your apple, brandy and bay leaf and reduce over high heat until 3 table spoons of liquid remain. Remove bay leaf, add parsley, remaining duck fat and chill completely.

Assembling The Pâté
Grind pork and liver through the large die into a bowl. Combine flour, eggs and cream in a small bowl then add to the pork farce with the brandy reduction. Add in salt and peppercorns, then mix on low speed with a paddle attachment for roughly 1 minute or until the mixture looks sticky. Pack in the pate mixture and press down firmly to remove air pockets. Fold the plastic wrap over the top and cover with the lid.
Place in a roasting pan and fill with hot water to cover half way up the side of the terrine mold. Place in the oven for about 1 hour or until an internal temperature of 150º is reached. Remove from the water and set a weight of 1kg on top of the terrine. Cool to room temperature then place in the fridge.

*Please note that the cook time mentioned above does not include the preparation step or the final step of cooling the pâté to room temperature. Please allow sufficient time for these steps.

The bubbles in a sparkling wine provide a balance contrast with the rich palate!