Cinnamon Crème Brûlée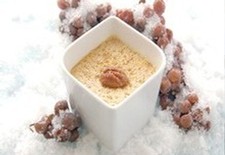 Measurements:
Imperial (US)
Ingredients
4 cups 35% cream
1 vanilla bean, split and scraped
1 tsp freshly grated cinnamon
1/2 cup granulated sugar
6 large egg yolks
Directions
Place cream, vanilla bean and seeds into a medium saucepan set over medium-high heat and bring to a boil. Remove from the heat and allow to cool slightly. In a stainless steel bowl, whisk together 1/2 cup sugar, cinnamon and egg yolks until well blended and it just starts to lighten in color. Add the cream a little at a time, stirring continuously. Pour the custard into 6 (7 to 8-ounce) ramekins. Place the ramekins into a deep roasting pan. Pour enough hot water into the pan to come halfway up the sides of the ramekins.
Bake just until the creme brule is set, but still soft in the center, approximately 45 minutes. Remove the ramekins from the roasting pan and refrigerate for at least 2 hours and up to 3 days. Remove custards from the refrigerator; sprinkle each with a generous amount of sugar. Using a blow torch or crème brûlée torch gently brown the sugar until a golden brown crust forms.
*Please note that the cook time mentioned above does not include the refridgeration time. Please allow sufficient time for this step.