Chocolate Soba Noodle Salad With Soy Cured Duck Breast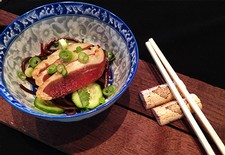 Measurements:
Imperial (US)
Ingredients
1 duck breast
4 cups cooked soba noodles
1 mini English cucumber, sliced very thinly
1/2 cup beet root, julienned
1 small bunch of cilantro, leaves picked
2 tbsps kosher salt
4 tbsps cocoa powder, divided (2tbsp + 2tbsp)
5 tbsps soy sauce, divided (2tbsp + 3 tbsp)
1 tbsp cracked Szechwan peppercorns
1 tbsp sugar
2 tsps cracked coriander seed
3 clove garlic, divided (2 finely sliced, 1 finely grated)
1/3 cup seasoned rice vinegar
1/3 vegetable oil
1 tbsp sesame oil
fresh ginger, grated finely
1 tsp Sriracha sauce (chili garlic sauce)
Directions
Mix together the noodles, cucumber, green onion, beets and cilantro. Toss with the cocoa vinaigrette (directions below) then top with 400g of sliced duck (directions below).
Cocoa & Soy Cured Duck
Combine kosher salt, 2 tbsp cocoa, peppercorns, 2 tbsp soy sauce, coriander, sugar and 2 cloves of finely sliced garlic in a zip lock bag. Add in the duck breast and evenly coat with the mixture. Seal the bag and refrigerate for 4 days. Remove the breast from the bag. Wrap the duck in cheesecloth and using twine, hang it in your fridge for 1 – 2 weeks (until the breast is firm). Place a plate under the duck to catch any moisture loss.

Asian Cocoa Vinaigrette
Combine the rice vinegar, ginger, 1 clove of finely grated garlic, Sriracha sauce and 2 tbsp of cocoa. Slowly drizzle in 3 tbsp of soy sauce, sesame oil, ricewine vinegar, and vegetable oil, whisking constantly until a light emulsion forms. Store in airtight container in refrigerator. Vinaigrette will last up to 2 weeks in the fridge.

*Cook time does not include refrigeration or curing time for the duck.