Braised Lamb Shanks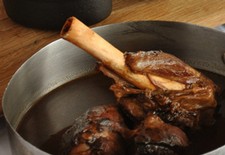 Ingredients
4 lamb shanks
1.5 l beef stock
1 l large carrot
1 large onion
3 garlic cloves, whole
1 small bunch of thyme
2 bay leaves
1 tsp black peppercorns
90 ml olive oil
Directions
Preheat oven to 300°F. Heat olive oil on high in 4L stock pot. Season shanks with salt & pepper, sear for 2-3 minutes per side. Remove shanks and set aside.

Add vegetables and spices to hot pot and cook for 2 minutes, stirring continuously. Add red wine, shanks, and cover with beef stock. Cover pot and place in oven for 3-3.5 hours. Remove cooked shanks and reserve warm.

Strain braising liquid through a fine sieve into sauce pot. Reduce liquid until desired consistency. Serve over shanks and enjoy!