Asparagus Salad With Goat Cheese Vinaigrette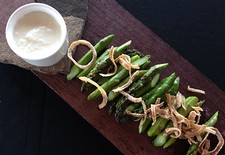 Measurements:
Imperial (US)
Ingredients
1 1/2 lbs local asparagus
1/4 cup olive oil
1/2 cup crispy shallots (available at most Asian grocery stores)
1/4 cup fresh goat cheese
2 tbsps white wine vinegar
2 tbsps water
1 tbsp honey
Directions
Preheat your BBQ to high. Toss asparagus in olive oil and season with salt and pepper. Grill the asparagus until lightly charred and just tender, this should take roughly 4 minute. Remove from the grill and place in the fridge to cool. When completely chilled cut into bit size pieces. Top the grilled asparagus with crispy shallots and serve with the goat cheese vinaigrette.
Goat Cheese Vinaigrette
In a food processor add together goat cheese, vinegar, water and honey. Process until mixture is smooth and airy. Blend through salt and pepper to taste.