Vintage Ink Wicked White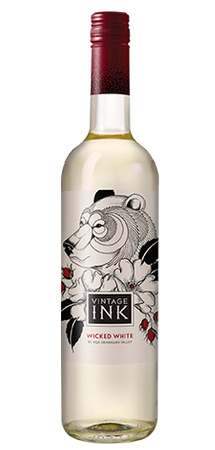 Wine Profile
Tasting Notes
Tangerine, lemon, peach, pineapple, orange blossom, and lime burst forth on the nose and palate with full intensity. The well-balanced ratio of acidity to sweetness ensures that each sip will be just as refreshing as the one before it. This wine is fruity, refreshing, versatile, and approachable.
Winemaker Notes
A blend of Gewurztraminer, Pinot Grigio and Viognier. Three grape varietals that when given the opportunity to ripen to their full potential give off intensely aromatic fruit flavours. We brought these three amigos together to drop a fruit bomb on your taste buds
Food Pairing Notes
Wicked White has what it takes to stand toe-to-toe with spicy food, so bring it on. Try it with Szechwan chicken stir fry, Pork vindaloo, or maybe a jalapeno and bacon flatbread. Gouda, Stilton, ricotta or mozzarella pair well.
Product Reviews