Nk'Mip Cellars 2022 Qwam Qwmt Riesling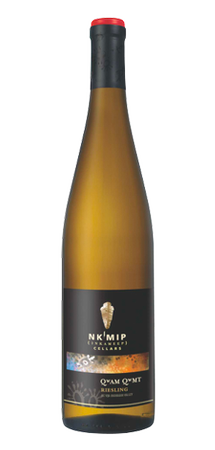 Wine Profile
Tasting Notes
This wine has aromas of lime, granny smith apple and peach blossom. The entry is dry and balanced with flavours of lime, passion fruit and a intense minerality leading to a mouth-watering and a long crisp finish.
Vineyard Notes
A cool, wet March and first half of April brought concern for a late bud break and a difficult start to the growing season. However, towards the end of April the weather changed dramatically, and temperatures rose to well above seasonal averages, accelerating bud break to close to historical norms. June and July were good growing months and August brought smoke from the many fires to the northwest. Towards the end of the month, the skies cleared. Early September was cool – ideal for the whites and Pinot Noir, but not for the bigger reds. Luckily, we saw an October to remember - very sunny and dry, hitting daytime temperatures of 16°- 17C° and nighttime temperatures just above the freezing mark, allowing for an extended hang time and a great conclusion to another fine Okanagan vintage!
Production Notes
We harvested our Riesling in late October to ensure maximum flavour intensity. It is 100% Riesling grown on a 42-year-old block of grapes at Inkameep Vineyards. The grapes were crushed, destemmed and soaked for 4 hours of skin contact time. The grapes were then gently pressed and fermented in 100% stainless steel tanks with a blend of fruit enhancing yeast.
Food Pairing Notes
Our Riesling's high acidity make this the perfect food-friendly wine. Try pairing with crispy glazed pork belly, simple seafood dishes with light cream sauces, sautéed mushrooms, roasted chicken or Brie and Camembert cheese.
Product Reviews