$15 Wine and Food Experience Gift Certificate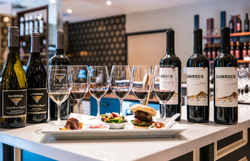 Now available, you can purchase a certificate for a Wine & Food Experiences at any one of our four winery locations. To see a list of all winery experiences and available dates, go online to our Estate Winery Events.
This certificate is for winery experiences only.
(If you wish to purchase a wine gift only, you can do so on our Gifting page)
After purchase, the recipient can book their preferred experience by calling the Great Estates Okanagan at 250-494-0451 ext.241
This certificate is valued at
$15.00

Not redeemable for wine - Gift Certificate can only be used towards a wine and food experience at one of the Great Estates Okanagan Wineries (Jackson-Triggs/Inniskillin, Sumac Ridge, See Ya Later Ranch and Nk'Mip Cellars).
To see a list of all available experiences, go to Winery Events.
To book your experience call 250-494-0451 ext. 241.or
email info@greatestatesokanagan.com and provide agent with the order number