Inniskillin Okanagan 2020 Reserve Cabernet Sauvignon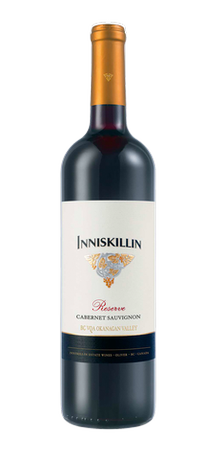 Wine Profile
Tasting Notes
Captivating cassis, some acai berries, a hint of graphite (earthiness), and subtle oak aromas. There are plenty of fruit flavours on the palate with a pleasant undertone of smoky oak and vanilla. The tannins are softer than you would expect (although they are still firm), and there is a pleasant acidic backbone leading to a lengthy finish.
Vineyard Notes
The onset of bud break was a few weeks ahead of the "regular season", and was complemented with hot summer days and cool nights. The latter part of the summer and early fall cooled off to allow the grapes to reach their full flavour maturity. The white and red wines both benefited from the cooler temperatures at the end of summer to allow for slightly longer hang time which helped flavour development catch up to sugar accumulation. The white wine grapes developed intense fruit flavors while still holding onto some bright acidity. The red wine grapes experienced an amazing season, the extra hang time allowed the red wines to develop more complex flavour and tannin profiles.
Winemaker Notes
The grapes came in at peak ripeness, bursting with flavour. They were gently crushed, destemmed and then fermented in open top fermenters for a maceration time of 10 days, with twice daily punch downs. The ferment reached 30C, extracting rich flavour and colour. It then went through full malolactic fermentation in barrel and then aged for 14 months in a blend of French and American oak.
Food Pairing Notes
Braised beef short ribs, Rosemary lamb, Filet mignon with rich balsamic glaze, Grilled steak with salsa verde, Smoked onion and Gruyere cheese tarts, mushrooms, roasted beets, demi-glace sauces and hearty herb dishes.
Product Reviews