11:00 am Pick Up Party at Sumac Ridge
Sunday, September 22nd, 2019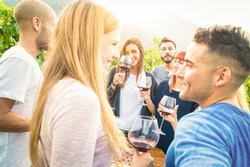 2019 Great Estates Okanagan Member's Pick Up Party
Where: Sumac Ridge Estate Winery
When: Sunday, September 22nd, 2019
Time: 11:00 am - 12:00 pm
RSVP Required to attend
This is a Pick Up Party at Sumac Ridge, please dress for the weather. There will be wine tasting and delicious treats.
In order to accommodate all our members and give the best experience possible, we have split the event into different times. Please choose a time that works best for you to attend. Please note, there is a maximum amount of guests per time; if one is sold out, please select another time.
Each Wine Club membership is eligible for two complimentary tickets to the event (while quantities last).
Please note that all you need to do is RSVP. You do not need to print your tickets, please just arrive at the time you selected.
How Do I Get My Tickets?
No tickets are required, just RSVP to your preferred time slot.
Where Does The Event Take Place?

The event will take place at Sumac Ridge Estate Winery. The winery is located at 17403 HWY 97 North, Summerland, BC, V0H 1T6. Please note that this is an outdoor, rain or shine event.