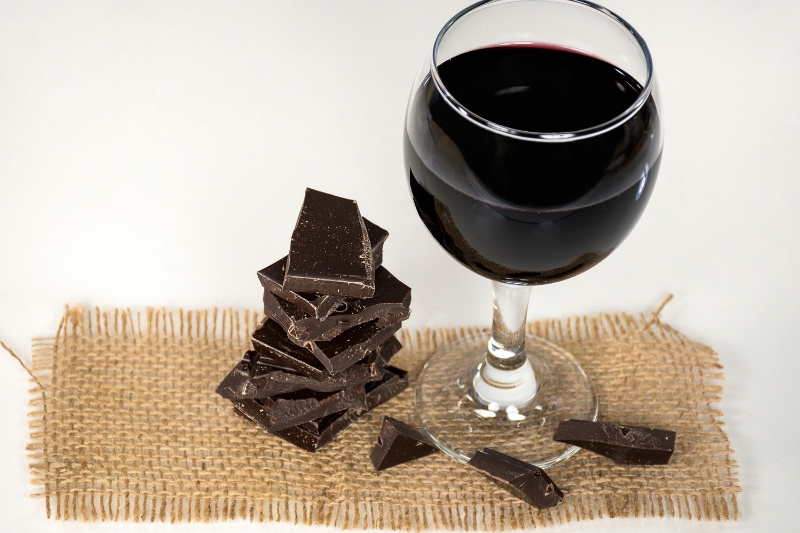 Wine and Chocolate Pairing Events at Great Estates Okanagan Wine Experience Centre in Penticton
If you love wine and you love chocolate then there's no doubt that participating in our Wine + Chocolate = Happiness experiences will put you in your happy place.
Join our wine educators for an indulgent experience learning how to pair chocolates with four of our wines from the South Okanagan! Discover how delicate dark chocolates filled with organic Okanagan fruits pair beautifully with red, white, and dessert wines.
We kick the Wine + Chocolate = Happiness experiences off with a glass of sparkling wine. We then explore the world of chocolate, fruit, and South Okanagan wine to discover how these decadent flavours enhance and contrast one another.
We've partnered with Maison Mulnati to bring you this amazing pairing experience. New to Penticton, Maison Mulnati is a French artisan chocolatier creating handmade, vegan chocolates without preservatives. Some are even infused with our finest selected vintages of wine.
The experience will satisfy the most discriminating of palates and will give you a new appreciation of two of the worlds best things - wine and chocolate.
Book now as space is limited to 10 guests per session.
Wine + Chocolate = Happiness at Great Estates Okanagan Wine Experience Centre
Time: 3:00pm - 4:00pm
Price: $25 plus tax

Dates: Every Saturday and Sunday
RESERVE NOW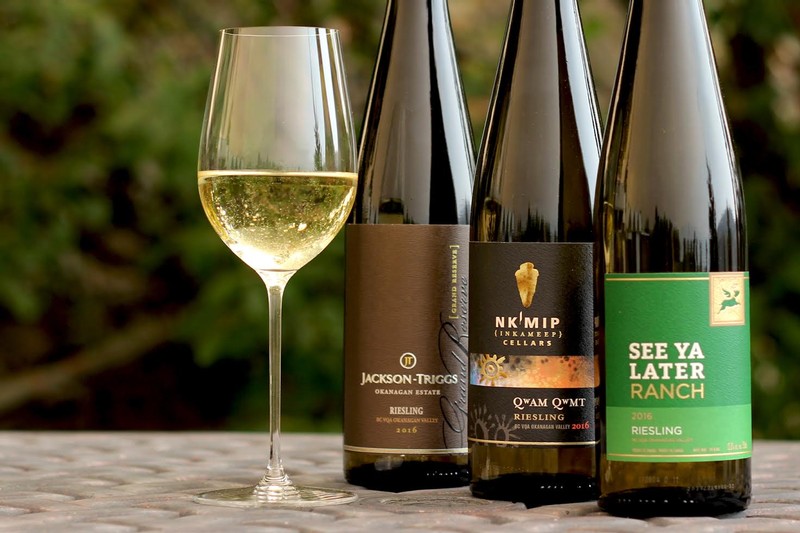 'How' You Drink Effects the Enjoyment of 'What' You Drink
What if your favourite wine could taste even better? If you're not drinking out of a varietal specific glass, you might be able to unlock a whole new level of deliciousness just by changing your glass!
"It's not magic; it's science." That's according to Alysha Harker, a regional territory manager for Riedel Crystal. She says that the company has been studying the physics of wine glasses for decades. What they've discovered over the years is that where the wine lands on your palate when you drink alters how your taste buds interpret the flavour. And, that you can change where that wine lands by changing the shape of the glass. The shape literally forces you to tilt your head at exactly the right angle so that the wine tumbles into your mouth just right.
They also discovered is that there isn't just one sweet spot, so to speak, in the mouth that will make all wines taste better. Each varietal has a different perfect spot on the palate. "The bowl, the length, and the rim diameter determine where specifically that grape should hit on your palate to enhance all of the flavours of that grape, " explains Alysha.
You may have noticed the effects of this yourself. Have you ever tasted wine at a winery or at home and thought it was spectacular and then the next time you try it in a different environment it just doesn't taste the same? It could be the glasses.
So, which glasses are the worst offenders? Alysha says that sadly, it's your novelty glasses - you know, the ones with the cute sayings. "Those glasses do nothing for your wine. You'll notice if you're drinking wine from a glass with a thick rim or something with a rolled rim, or plastic - your wine is only going to taste like alcohol and that's it. You're not going to get any notes and you're not going to get any of the different flavour characteristics. Whether it's from the soil [terroir] to the grape to the nuances, you're not going to get that."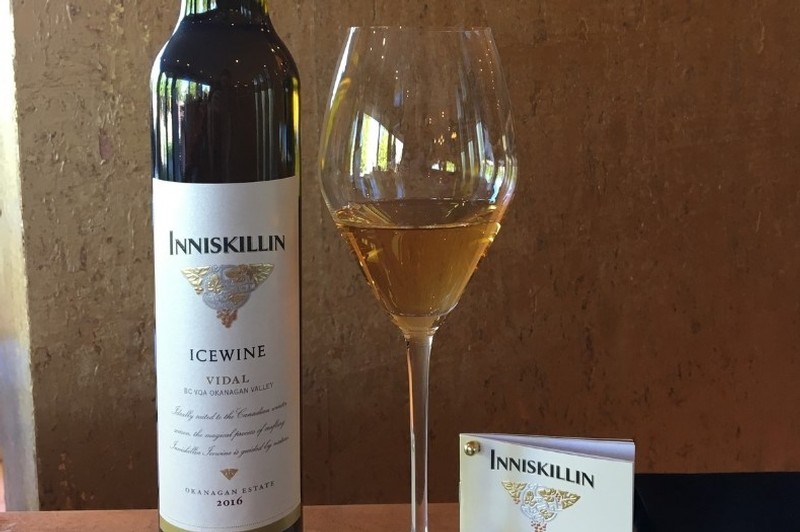 Inniskillin recognized the impact of wineglass shape on the taste of their wines decades ago - specifically on their uniquely Canadian Icewine. They reached out to Riedel and worked alongside them to develop the perfect shape of glass for releasing the full flavour of their Icewine. The glass that was created through this process is not only the one you'll get if you do an Icewine tasting experience at Inniskillin Okanagan - it's also the design you'll get if you buy the Riedel Icewine glasses.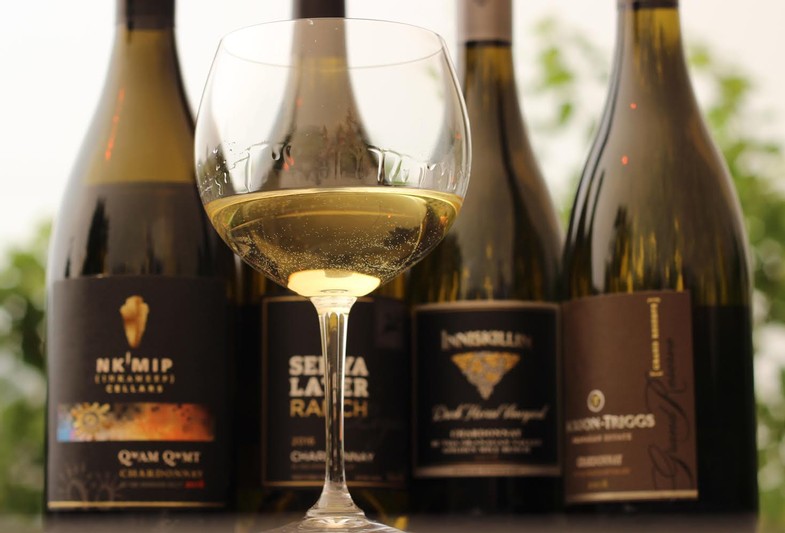 They've also created glasses specifically for sparkling wine, Cabernet/Merlot, Pinot Noir (old world and new world), Riesling/Zinfandel, Chardonnay (oaked and unoaked), Syrah, Burgundy, Bordeaux, and more.
By now you're probably wondering if you need to put an addition on the house just to store all of these styles of glasses!
Alysha suggests you start with glasses for the wine you enjoy the most. After that, she says most people will go with a white aromatics glass - also known as the Riesling/Zinfandel glass. You can also drink Sauvignon Blanc, Gewurztraminer, and Pinot Gris out of it. For a reds glass, she recommends the Cabernet/Merlot since those are the most popular reds in BC.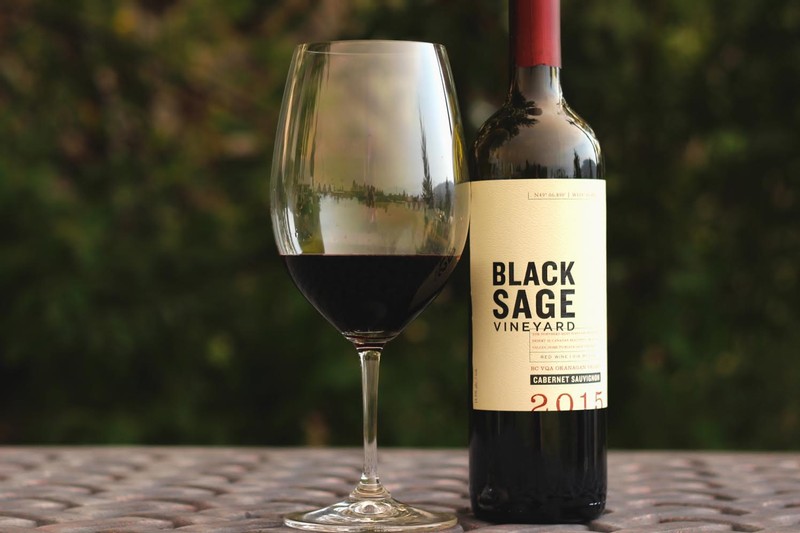 If this all feels a bit overwhelming, just think about it this way - discovering how much the shape of your glass affects your wine is a fun journey to embark on. You get to taste wines and see for yourself what the shape of the glass is doing.
We think it would make a great dinner party theme and Alysha agrees. The trick, she says, is to start with the right glass - taste the wine at it's finest. Then, try it from a non-varietal glass and see what happens. The glass that she says blows people's minds is the oaked Chardonnay glass - especially for people who think they hate Chardonnay!
So, grab some friends and do a little experiment. Find out for yourself if the science really is magic.
Stop by the Great Estates Okanagan Wine Experience Centre for a selection of Riedel glasses and decanters.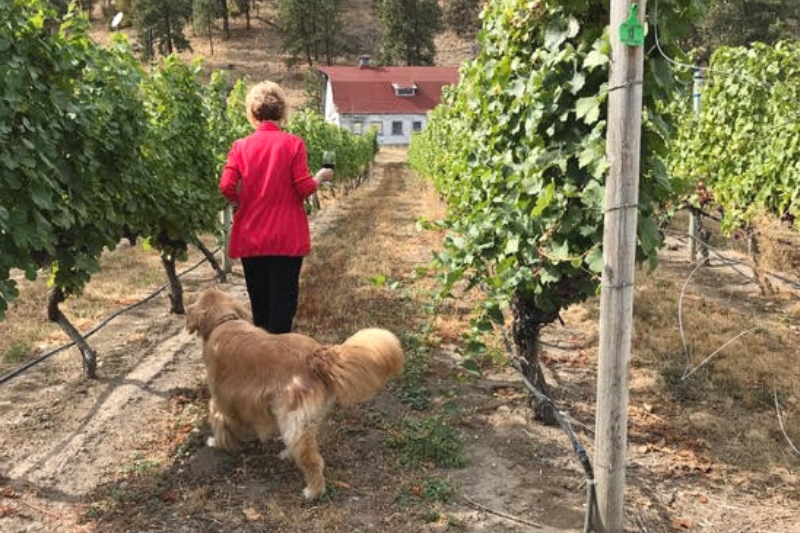 The Perfect Day: Wines, Vines & Canines
Put on your walking shoes, grab your leash and enjoy Vine Tails at See Ya Later Ranch on September 29, 2018. See Ya Later Ranch is proud to be a dog-friendly winery. The property was once owned by a man who was a well-known dog lover and animal rights activist, so it's our honour to carry on this tradition.
Vine Tails is a delightful way to spend an afternoon. Navigate your way from tasting station to tasting station out in the vineyard. At each stop, you'll sip award-winning wine from See Ya Later Ranch and sample a great food pairing. All of this while taking in the spectacular view from the See Ya Later Ranch property high above Lake Okanagan and Okanagan Falls.
And, you get to do this with a group of dog-lovers who all appreciate great wine and delicious food. This is the ultimate in taking the dog for a walk. Or, if you don't have a dog of your own, enjoy other people's dogs!
This event is in the past.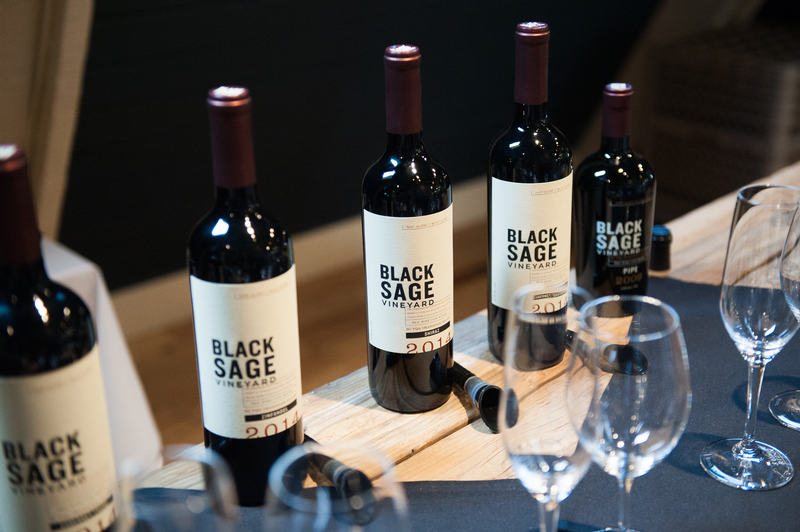 Learn The Art of the Bordeaux Style Blends in this Hands-on Workshop
Think you can blend the perfect red Meritage? This seminar at Sumac Ridge Estate Winery gives you the chance to be winemaker for the day. Not only do you get a chance to taste the amazing wines that go into a Bordeaux Style wine blend, but you also get an opportunity to try your hand at making a perfectly blended Meritage that suits your tastes.
First, you'll learn what each varietal does in terms of flavours, body, and complexity when making a Meritage. And of course, you'll have to taste the four single Black Sage Vineyard Bordeaux varietals that make up our Black Sage Vineyard Meritage to fully understand them.
Now that you've gotten to know them a bit better, you'll be given a pipette for measuring the percentages of each varietal to create a balanced Meritage.
Did you get it right? It won't just be your palate that will be the judge! Our host will give it a sip and let you know if you have what it takes to blend the perfect Meritage. If yours is the best blend, you'll be declared the winner and you'll walk away with a bottle of the Black Sage Vineyard Meritage!
But, the fun doesn't stop there. After the seminar, you'll have a chance to chat with the other participants while enjoying a glass of Black Sage Vineyard Meritage and a charcuterie plate. If you won the wine, try not to gloat over the goat cheese.
This workshop is one of the most popular at Sumac Ridge Estate Winery each year. So, secure your spot today.
Mastering Meritage at Sumac Ridge Estate Winery
This event is in the past.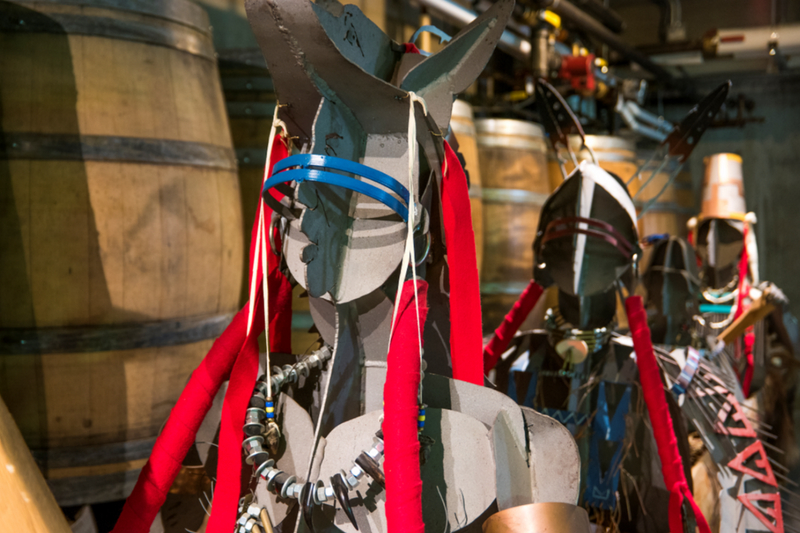 Unique Food and Wine Experience
Discover the legacy of our land in a progressive wine pairing experience, celebrating our fall releases. Enjoy a guided tour and five-course lunch set in several stations throughout the winery. We only offer this experience a few times a year, so don't miss your opportunity to spend an afternoon immersed in culture and culinary joy.
In the Cellar: Fall Harvest Wine & Food Pairing Lunch
This event is in the past.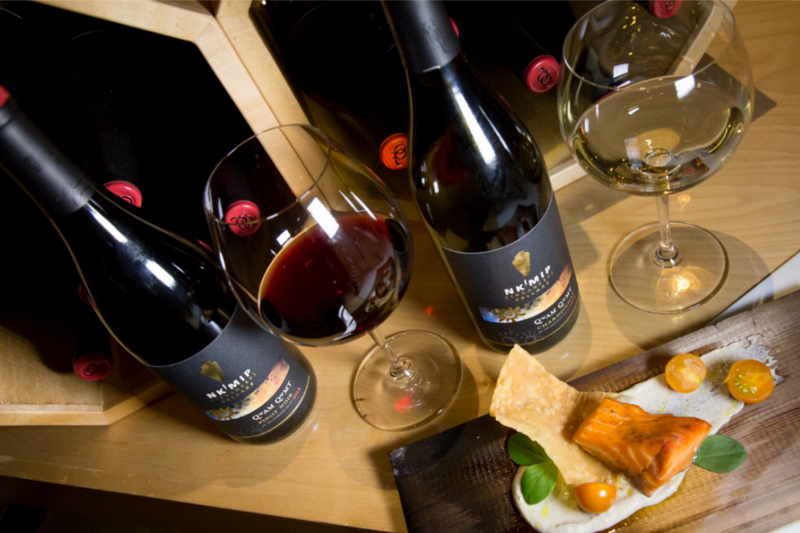 Dine with Nk'Mip Cellars' Winemakers
Enjoy the bounty Fall brings in the Okanagan. Join our winemaking team, including Randy Picton & Justin Hall, as we enjoy a five-course dinner prepared by Winery Chef, Orlin Godfrey.
His local and innovative food is expertly paired with a selection of Nk'Mip Cellars wine. The Annual Winemakers Dinner is one of the wineries most popular events because the food, wine, and overall experience are so incredibly memorable.
This event is in the past.
Image by: Culinary Marketing Strategies

Celebrate the Harvest in Style
Looking for a great way to welcome the autumn? The Cellar Grazing & Harvest Dinner is two unique experiences rolled into one magical night.
Start the evening with a visit to our Sparkling Wine Cave where you'll witness a sabre ceremony. This is a thrilling way to remove the cork from a bottle of sparkling wine using a long knife. Next, nibble on delectable bites paired with some of our private reserve wines in our private vineyard room.
The party moves to the Black Sage Hall where you can relax and enjoy a sumptuous chef's dinner showcasing our bold Black Sage wines.
To finish the evening off just right, a decadent chocolate dessert will be served along with a glass of our Black Sage Pipe.
This event is in the past.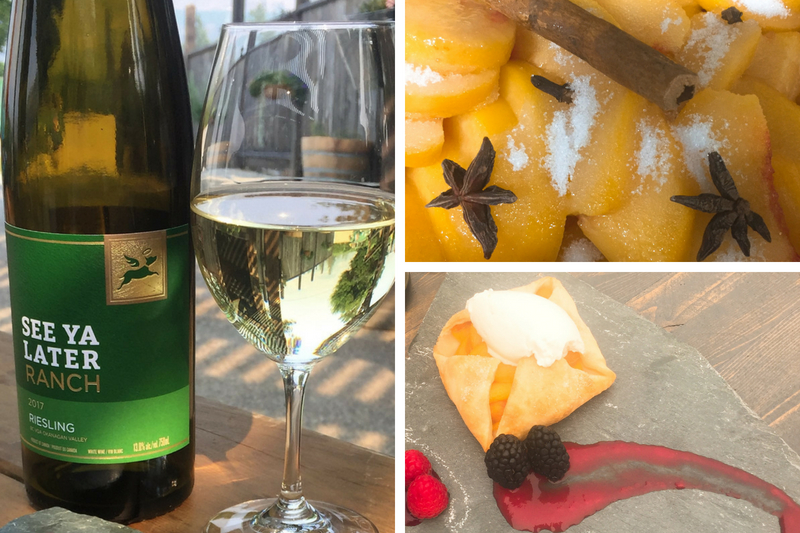 Scrumptious and Seasonal Dessert Recipe Paired with Riesling
Aside from being a great wine producing region, the Okanagan is also known for its orchards. And one of the tastiest fruits to come from those orchards are peaches.
Great Estates Okanagan Chef, Ben Overland, has taken those beautiful, juicy peaches and baked them into perfect little personal-sized pies. Pair this with a glass of Inniskillin Riesling Icewine and you've got a delightful dessert or with See Ya Later Ranch Riesling for a sophisticated afternoon snack.
Here's the recipe for Okanagan Peach Pie (makes about 12 personal-sized pies).
Ingredients for pie crust:
5 cups All-Purpose Flour
1 lb Cold Butter, cubed
1 Egg
1 tbsp White Vinegar
½ cup Ginger Ale
Ingredients for filling:
2 lbs Fresh Peaches
2 tsp Cinnamon
1 tsp Nutmeg
¼ cup Corn Starch
Method:
Preheat oven at 350°F.
Start by preparing the crust.
Combine flour and butter in electric mixer until mealy.
Slowly add wet ingredients to form a dough.
Cover and let rest at room temperature while you prepare the filling.
Peel and slice peaches into evenly sized pieces.
Toss peaches with cinnamon and nutmeg and sifted cornstarch.
Place peaches in a pot and slowly cook over medium heat for about 15 - 20 minutes.
Strain cooked peaches, setting liquid aside.
While peaches are cooling, roll out pie dough (on a lightly floured surface) to ¼ inch thickness.
Cut dough into 6-inch square pieces.
Place cooled peaches into the centre of the dough square and fold corners into the middle. Be careful not to overfill.
Place pies on a parchment-lined baking sheet and bake at 350°F for about 12 minutes until golden.
While pies are baking, over medium/high heat, reduce the reserved peach juice to syrup constancy. Be careful not to burn it.
Once pies are cooked and cooled, drizzle with syrup, and top it with a scoop of locally made ice cream. For example, you could try the vanilla gelato from Parlour in Kelowna or a scoop of cinnamon gelato from Roberto's in Osoyoos.
Serve with See Ya Later Ranch Riesling or Inniskillin Riesling Icewine.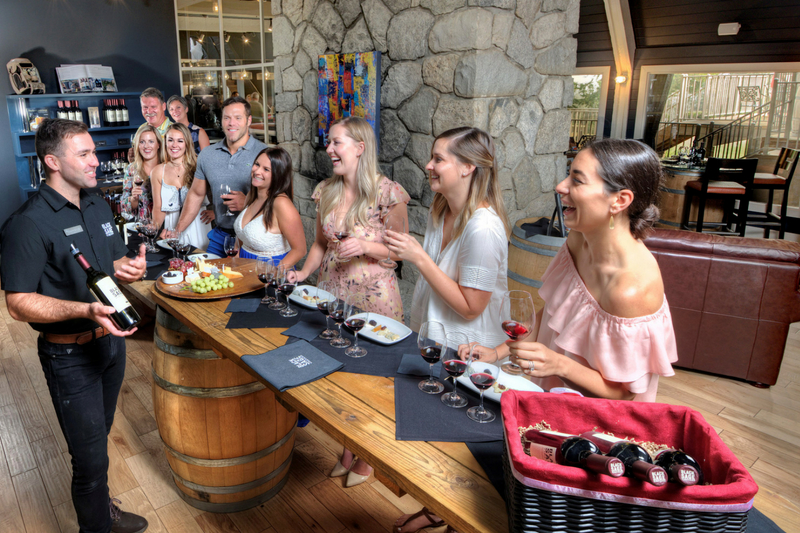 Setting the Scene for a Great Wine Tasting
Tasting a variety of different wines is one of the best ways to improve your understanding of wine, develop your personal preferences and, ultimately, increase your enjoyment of wine. Who doesn't want to enjoy wine more?
Now, getting better at wine tasting is all about practice but, there are certain things that can influence your wine tasting experience. So, if you want to take your wine tasting experience to the next level, here are a few things you should be aware of.
Let There be Light
While wine tasting in the dark (or blindfolded) is a novelty, it's not the ideal setting. Good light in the wine tasting space is key for two reasons. The first is that you want to be able to see the colour of the wine in the glass. The second has less to do with the wine and more to do with psychology. Research studies have found that a nicely lit environment will lead us to have a more pleasant wine tasting experience.
Pause the Perfume
A good wine tasting environment is scent-free. This is so that your nose can focus on the aroma of the wine in the glass in front of you. Wearing perfume will interfere with these scents and can also dampen your olfactory receptors altogether. Plus, others may be allergic to your perfume causing them to get stuffed up which will significantly hinder their ability to smell and taste the wine.
Easy Does It
It goes without saying that wine tasting is not a sprint. There's no prize for finishing first. Take your time not only with each wine you are tasting but in between as well. There are many things to consider while wine tasting, so taking your time will help you assess everything from the look, the aroma, the mouthfeel, and the taste. Not only will tasting too many wines too fast decrease your ability to appreciate and consider the wine, it may also lead you to feel the effects of the wine - which will definitely interfere with your ability to judge the wine.
Spit and Cleanse
Using the spitoon while at a winery is not an insult. Firstly, spitting gives you the opportunity to taste more wines without feeling the effects. In addition, if you are tasting a wide variety of wines, spitting your first sip allows the wine to coat the mouth and, in a sense, cleanse away the taste of the last wine. Some people will use a plain cracker or piece of bread to cleanse the mouth. The is especially helpful if the last wine you tried is lingering or was particularly strong.
Sensory Setting
You might think that wine tasting only uses three out of five senses (smell, sight, taste) but did you know that touch and sound can also affect your experience? For one, the temperature of the wine can greatly impact your reaction to how it tastes. There's also mouthfeel - which is the physical reaction to a wine inside your mouth. You might determine that a wine feels velvety, sharp, cloying in the mouth. As for sound, we all know that our auditory environment can greatly affect our mood, and this, in turn, can shift our perception of the wine. In fact, several scientific studies found that music can alter what you taste. One study even looked at whether specific styles of music could elevate the enjoyment of specific varietals - like drinking Syrah while listening to Enya.
It's surprising how much scientific research has gone into perfecting the wine tasting experience. It seems clear that we owe it to science to make the most of all of these profound discoveries!
Of course, if you really want to elevate your tasting experience, join us for one of the many fun and interesting food, wine and educational wine tasting experiences at one of our Great Estates Okanagan wineries. We'd be thrilled to welcome you. Or, host your own wine tasting party with a selection of wines that you choose - it's something many of our wine club members love to do.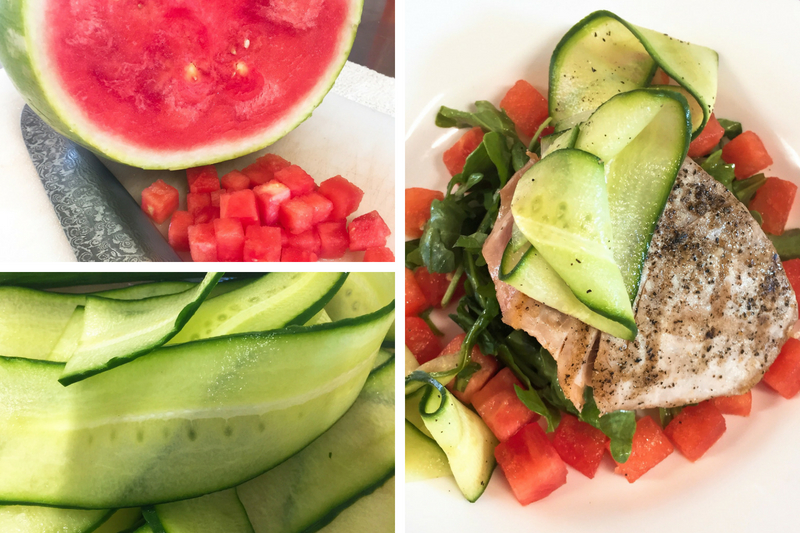 Pairing Fish with Gewurztraminer (from See Ya Later Ranch)
When it's hot outside you want a nice light meal that isn't going to take hours in front of a hot stove. We turned to Great Estates Okanagan Chef, Ben Overland for some ideas.
What he's delivered is simple yet sublime - a watermelon, cucumber, and arugula salad topped with freshly grilled tuna. The salad is perfect for beating the heat. Plus, because the fish is done on the barbecue, the chef can stay nice and cool too. And, yes, it is as delicious as it sounds.
Here's the recipe (serves 4).
Ingredients:
4 Tuna Steaks (fresh is best, size should match the appetites you're serving)
1 Cucumber
1 Watermelon (small)
Fresh Arugula
1 tbsp Rice Wine Vinegar
4 tbsp Olive Oil (divided)
Salt & Pepper
Method:
Pull tuna out of the fridge, rub with 1 tablespoon of olive oil. Season generously with salt & pepper. Let temper for 30 minutes.
Heat BBQ to 450° F.
Cut watermelon into bite-sized cubes (remove rind). Place in a refrigerator.
Use a vegetable peeler to create long, thin ribbons of cucumber. Drizzle cucumber ribbons with rice wine vinegar & season lightly with salt & pepper. Place in a refrigerator.
Once BBQ is hot, place tuna steaks on the grill. Flip steaks each minute to create nice hash marks. Cook with the lid open. The size and thickness of your tuna steak will determine the cook time. Generally speaking, you want to grill tuna for 3 minutes for rare steaks. Add another minute for medium rare. And, another minute for medium or a full 6 minutes for tuna steaks that are well done.
Remove tuna from the grill and allow it to rest while you prepare the plates.
In a bowl, gently toss arugula with olive oil, vinegar, salt & pepper. Divide dressed arugula evenly between the 4 plates. Garnish with chilled watermelon cubes.
Slice tuna steaks on a bias (on an angle). Lean pieces against the greens. Pile cucumber ribbons on top to form a nest.
To finish, drizzle the entire dish with any watermelon juices that may have leaked out.
Sprinkle with fresh cracked pepper to taste.
We highly suggest you enjoy this meal with a glass of See Ya Later Ranch Gewurztraminer. This award-winning wine is light, crisp and clean (just like the salad). The peppery arugula, the sweetness of the watermelon, and the smokiness of the barbecued fish are all accentuated by the juicy acidity and the bright bouquet of the Gewurztraminer. This is the perfect summer meal.
We hope you enjoy this recipe! We'd love to see a photo of your meal on social media channels - please share them and tag us or use #GreatEstatesOkanagan so we don't miss them.
Now, if this strikes you as too much work on a hot summer evening, we've got you covered. Chef Ben has added this dish to the menu at See Ya Later Ranch. Drop by the patio and give it a try.