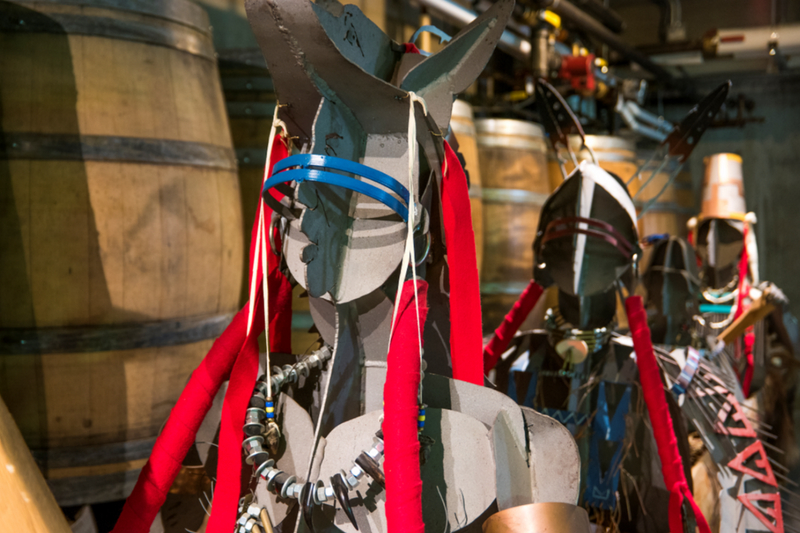 Unique Food and Wine Experience
Discover the legacy of our land in a progressive wine pairing experience, celebrating our fall releases. Enjoy a guided tour and five-course lunch set in several stations throughout the winery. We only offer this experience a few times a year, so don't miss your opportunity to spend an afternoon immersed in culture and culinary joy.
In the Cellar: Fall Harvest Wine & Food Pairing Lunch
Saturday, October 6th, 2018
Time: 12:30pm
Price: $85.00 + tax
Wine Club Members save 15%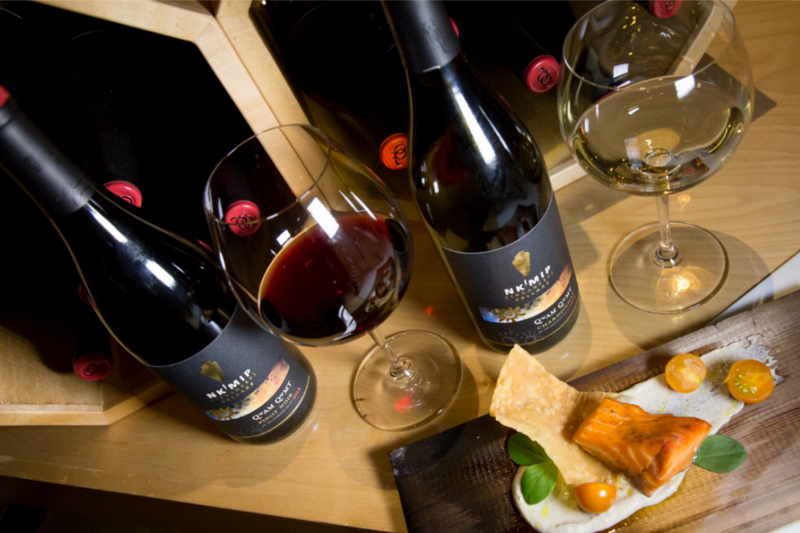 Dine with Nk'Mip Cellars' Winemakers
Enjoy the bounty Fall brings in the Okanagan. Join our winemaking team, including Randy Picton & Justin Hall, as we enjoy a five-course dinner prepared by Winery Chef, Orlin Godfrey.
His local and innovative food is expertly paired with a selection of Nk'Mip Cellars wine. The Annual Winemakers Dinner is one of the wineries most popular events because the food, wine, and overall experience are so incredibly memorable.
This event sells out every year, so don't wait to reserve your spot.
Annual Winemakers Dinner at Nk'Mip Cellars
Date: Saturday, September 29th, 2018
Time: 6:30pm
Price: $149 + tax & gratuity
Image by: Culinary Marketing Strategies

Celebrate the Harvest in Style
Looking for a great way to welcome the autumn? The Cellar Grazing & Harvest Dinner is two unique experiences rolled into one magical night.
Start the evening with a visit to our Sparkling Wine Cave where you'll witness a sabre ceremony. This is a thrilling way to remove the cork from a bottle of sparkling wine using a long knife. Next, nibble on delectable bites paired with some of our private reserve wines in our private vineyard room.
The party moves to the Black Sage Hall where you can relax and enjoy a sumptuous chef's dinner showcasing our bold Black Sage wines.
To finish the evening off just right, a decadent chocolate dessert will be served along with a glass of our Black Sage Pipe.
There are two evenings to choose from so make sure you select the date below that best suits you.
Cellar Grazing & Harvest Dinner
Time: 6:00 PM to 9:00 PM
Dates: September 20th & October 4th, 2018
Venue: Sumac Ridge Estate Winery
Price: $99 plus tax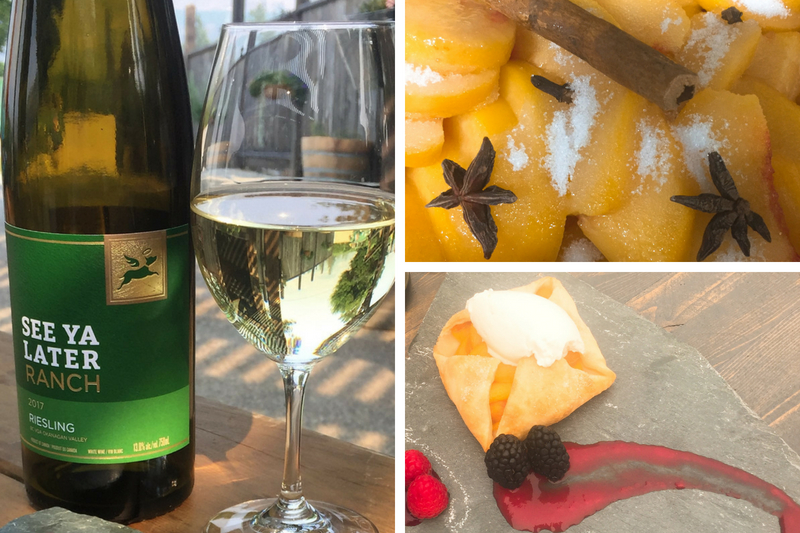 Scrumptious and Seasonal Dessert Recipe Paired with Riesling
Aside from being a great wine producing region, the Okanagan is also known for its orchards. And one of the tastiest fruits to come from those orchards are peaches.
Great Estates Okanagan Chef, Ben Overland, has taken those beautiful, juicy peaches and baked them into perfect little personal-sized pies. Pair this with a glass of Inniskillin Riesling Icewine and you've got a delightful dessert or with See Ya Later Ranch Riesling for a sophisticated afternoon snack.
Here's the recipe for Okanagan Peach Pie (makes about 12 personal-sized pies).
Ingredients for pie crust:
5 cups All-Purpose Flour
1 lb Cold Butter, cubed
1 Egg
1 tbsp White Vinegar
½ cup Ginger Ale
Ingredients for filling:
2 lbs Fresh Peaches
2 tsp Cinnamon
1 tsp Nutmeg
¼ cup Corn Starch
Method:
Preheat oven at 350°F.
Start by preparing the crust.
Combine flour and butter in electric mixer until mealy.
Slowly add wet ingredients to form a dough.
Cover and let rest at room temperature while you prepare the filling.
Peel and slice peaches into evenly sized pieces.
Toss peaches with cinnamon and nutmeg and sifted cornstarch.
Place peaches in a pot and slowly cook over medium heat for about 15 - 20 minutes.
Strain cooked peaches, setting liquid aside.
While peaches are cooling, roll out pie dough (on a lightly floured surface) to ¼ inch thickness.
Cut dough into 6-inch square pieces.
Place cooled peaches into the centre of the dough square and fold corners into the middle. Be careful not to overfill.
Place pies on a parchment-lined baking sheet and bake at 350°F for about 12 minutes until golden.
While pies are baking, over medium/high heat, reduce the reserved peach juice to syrup constancy. Be careful not to burn it.
Once pies are cooked and cooled, drizzle with syrup, and top it with a scoop of locally made ice cream. For example, you could try the vanilla gelato from Parlour in Kelowna or a scoop of cinnamon gelato from Roberto's in Osoyoos.
Serve with See Ya Later Ranch Riesling or Inniskillin Riesling Icewine.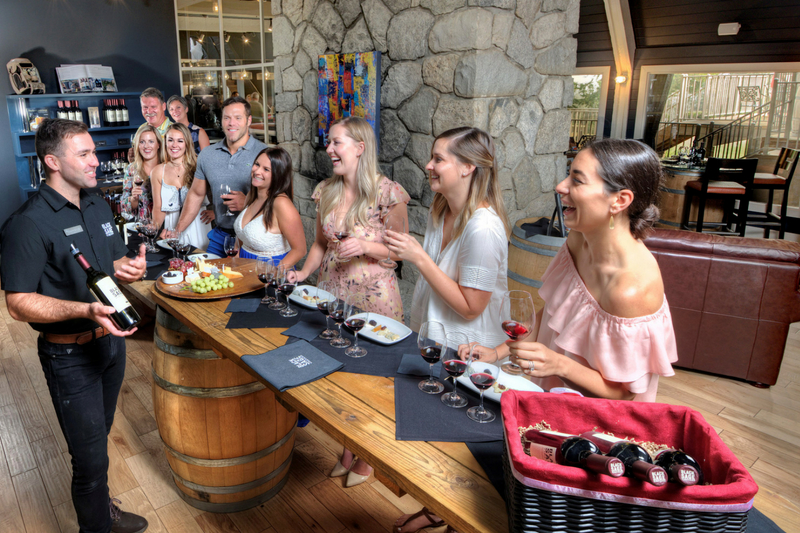 Setting the Scene for a Great Wine Tasting
Tasting a variety of different wines is one of the best ways to improve your understanding of wine, develop your personal preferences and, ultimately, increase your enjoyment of wine. Who doesn't want to enjoy wine more?
Now, getting better at wine tasting is all about practice but, there are certain things that can influence your wine tasting experience. So, if you want to take your wine tasting experience to the next level, here are a few things you should be aware of.
Let There be Light
While wine tasting in the dark (or blindfolded) is a novelty, it's not the ideal setting. Good light in the wine tasting space is key for two reasons. The first is that you want to be able to see the colour of the wine in the glass. The second has less to do with the wine and more to do with psychology. Research studies have found that a nicely lit environment will lead us to have a more pleasant wine tasting experience.
Pause the Perfume
A good wine tasting environment is scent-free. This is so that your nose can focus on the aroma of the wine in the glass in front of you. Wearing perfume will interfere with these scents and can also dampen your olfactory receptors altogether. Plus, others may be allergic to your perfume causing them to get stuffed up which will significantly hinder their ability to smell and taste the wine.
Easy Does It
It goes without saying that wine tasting is not a sprint. There's no prize for finishing first. Take your time not only with each wine you are tasting but in between as well. There are many things to consider while wine tasting, so taking your time will help you assess everything from the look, the aroma, the mouthfeel, and the taste. Not only will tasting too many wines too fast decrease your ability to appreciate and consider the wine, it may also lead you to feel the effects of the wine - which will definitely interfere with your ability to judge the wine.
Spit and Cleanse
Using the spitoon while at a winery is not an insult. Firstly, spitting gives you the opportunity to taste more wines without feeling the effects. In addition, if you are tasting a wide variety of wines, spitting your first sip allows the wine to coat the mouth and, in a sense, cleanse away the taste of the last wine. Some people will use a plain cracker or piece of bread to cleanse the mouth. The is especially helpful if the last wine you tried is lingering or was particularly strong.
Sensory Setting
You might think that wine tasting only uses three out of five senses (smell, sight, taste) but did you know that touch and sound can also affect your experience? For one, the temperature of the wine can greatly impact your reaction to how it tastes. There's also mouthfeel - which is the physical reaction to a wine inside your mouth. You might determine that a wine feels velvety, sharp, cloying in the mouth. As for sound, we all know that our auditory environment can greatly affect our mood, and this, in turn, can shift our perception of the wine. In fact, several scientific studies found that music can alter what you taste. One study even looked at whether specific styles of music could elevate the enjoyment of specific varietals - like drinking Syrah while listening to Enya.
It's surprising how much scientific research has gone into perfecting the wine tasting experience. It seems clear that we owe it to science to make the most of all of these profound discoveries!
Of course, if you really want to elevate your tasting experience, join us for one of the many fun and interesting food, wine and educational wine tasting experiences at one of our Great Estates Okanagan wineries. We'd be thrilled to welcome you. Or, host your own wine tasting party with a selection of wines that you choose - it's something many of our wine club members love to do.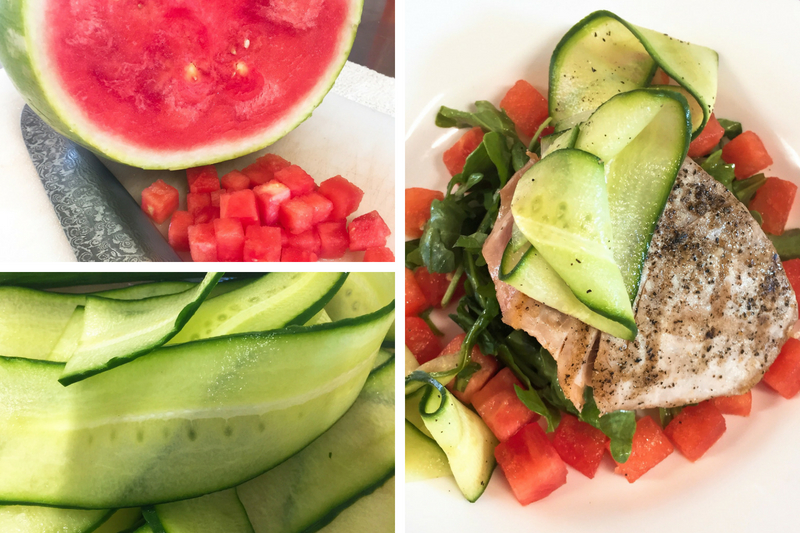 Pairing Fish with Gewurztraminer (from See Ya Later Ranch)
When it's hot outside you want a nice light meal that isn't going to take hours in front of a hot stove. We turned to Great Estates Okanagan Chef, Ben Overland for some ideas.
What he's delivered is simple yet sublime - a watermelon, cucumber, and arugula salad topped with freshly grilled tuna. The salad is perfect for beating the heat. Plus, because the fish is done on the barbecue, the chef can stay nice and cool too. And, yes, it is as delicious as it sounds.
Here's the recipe (serves 4).
Ingredients:
4 Tuna Steaks (fresh is best, size should match the appetites you're serving)
1 Cucumber
1 Watermelon (small)
Fresh Arugula
1 tbsp Rice Wine Vinegar
4 tbsp Olive Oil (divided)
Salt & Pepper
Method:
Pull tuna out of the fridge, rub with 1 tablespoon of olive oil. Season generously with salt & pepper. Let temper for 30 minutes.
Heat BBQ to 450° F.
Cut watermelon into bite-sized cubes (remove rind). Place in a refrigerator.
Use a vegetable peeler to create long, thin ribbons of cucumber. Drizzle cucumber ribbons with rice wine vinegar & season lightly with salt & pepper. Place in a refrigerator.
Once BBQ is hot, place tuna steaks on the grill. Flip steaks each minute to create nice hash marks. Cook with the lid open. The size and thickness of your tuna steak will determine the cook time. Generally speaking, you want to grill tuna for 3 minutes for rare steaks. Add another minute for medium rare. And, another minute for medium or a full 6 minutes for tuna steaks that are well done.
Remove tuna from the grill and allow it to rest while you prepare the plates.
In a bowl, gently toss arugula with olive oil, vinegar, salt & pepper. Divide dressed arugula evenly between the 4 plates. Garnish with chilled watermelon cubes.
Slice tuna steaks on a bias (on an angle). Lean pieces against the greens. Pile cucumber ribbons on top to form a nest.
To finish, drizzle the entire dish with any watermelon juices that may have leaked out.
Sprinkle with fresh cracked pepper to taste.
We highly suggest you enjoy this meal with a glass of See Ya Later Ranch Gewurztraminer. This award-winning wine is light, crisp and clean (just like the salad). The peppery arugula, the sweetness of the watermelon, and the smokiness of the barbecued fish are all accentuated by the juicy acidity and the bright bouquet of the Gewurztraminer. This is the perfect summer meal.
We hope you enjoy this recipe! We'd love to see a photo of your meal on social media channels - please share them and tag us or use #GreatEstatesOkanagan so we don't miss them.
Now, if this strikes you as too much work on a hot summer evening, we've got you covered. Chef Ben has added this dish to the menu at See Ya Later Ranch. Drop by the patio and give it a try.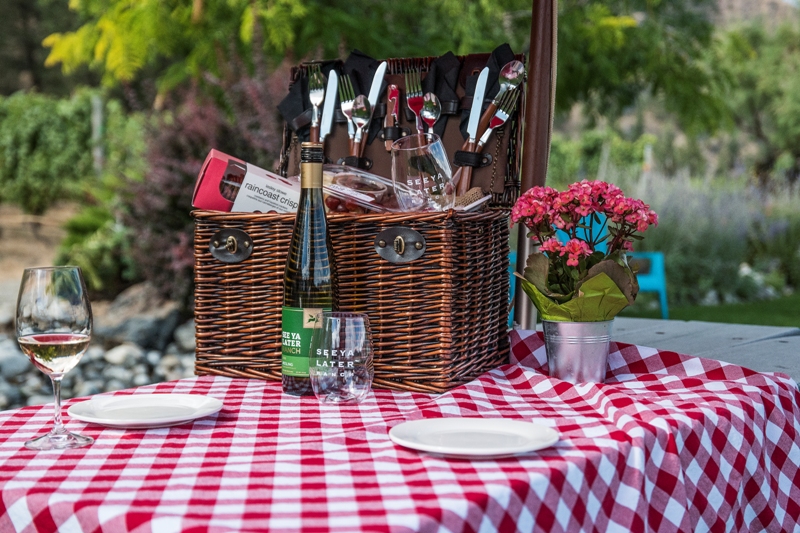 Okanagan Wineries and Parks with Picnic Areas
Nothing says summer quite like enjoying an al fresco meal in a beautiful setting. Luckily, the Okanagan offers plenty of picnic options. And, many of them fit perfectly into a day of wine touring!
We looked at the picnic area in terms of its setting, whether it has facilities, and what other attractions or activities can be enjoyed there. We whittled down the list of options to come up with our top picnic spots in the Okanagan. If you're wondering which wineries have picnic areas, you're in luck. We've included a few in our list.
Top Picnic Spots in the South Okanagan (Summerland to Osoyoos)
Sumac Ridge Estate Winery - Summerland
There are two picnic areas at Sumac Ridge that offer a lovely vineyard vista. You can spread your blanket out on the grass or set yourself up at one of the bistro tables. And, it's a licensed area so you can purchase a bottle at the wine shop and enjoy it on the lawn. Forgot to pack a picnic? No problem. The wine shop also offers nibbles (both sweet and savoury) and there's a cooler in the back stocked with everything you need for a DIY cheese and charcuterie plate. This is the perfect spot for a spontaneous picnic!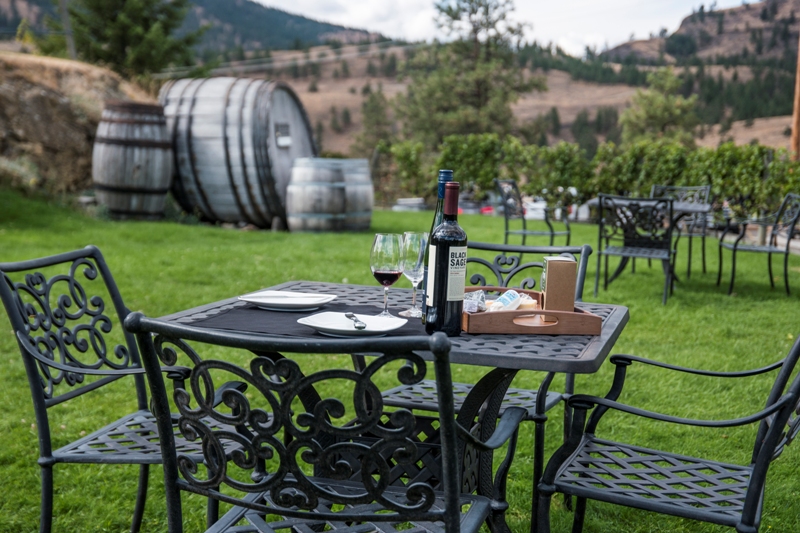 Peach Orchard Park - Summerland
There are a lot of different areas to choose from at this waterfront park. You can grab a stretch of grass close to the water, snag a picnic table, or claim a spot on the beach. This park is perfect for bigger family gatherings thanks to the covered group picnic area. And, if you need to work off some of that potato salad, there's a lakeside walkway. Bathroom facilities, a floating dock, a swimming beach, a doggie beach, and a splash park all make this a great spot for long, leisurely picnic.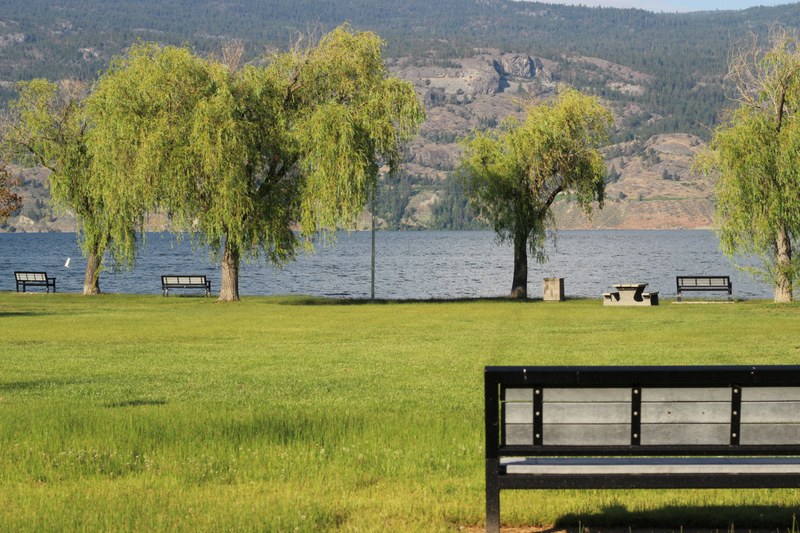 Sun-Oka Beach Provincial Park - South of Summerland
There are several provincial parks along the Hwy. 97 corridor between Peachland and Penticton but Sun-Oka is the best option for a picnic. The first reason for that is the sheer abundance of picnic tables. You can find a table in the trees, on the grass, on the beach; romantically secluded or in a cluster for groups. There are also plenty of areas to lay out a picnic cloth on either the grass or sand. There are also good facilities here, a nice swimming beach, and lots of chirping birds to help you forget that you are steps from the highway. If you like to picnic with your pooch, there's an entirely separate dog beach you're going to love.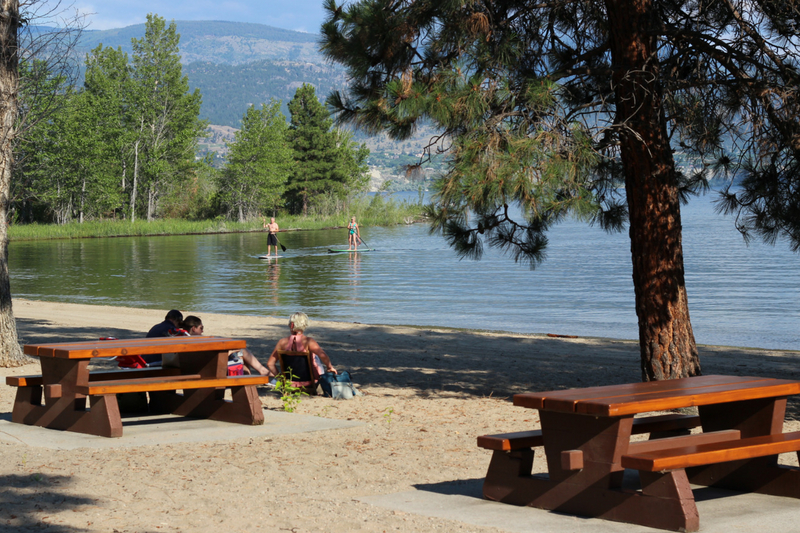 See Ya Later Ranch - Okanagan Falls
You can't beat the scenery from this winery picnic area! See Ya Later Ranch is located above Okanagan Falls with a long view out over the vineyard of Okanagan Lake. It's stunning. The picnic area offers both tables and grassy areas in the garden. You can also choose a shaded spot if you're not a sun-lover. The best part - you can purchase a bottle of wine at the wine shop and enjoy it right away. Now, if you want the wine and views without the hassle of bringing a picnic, the Patio Restaurant is open 7-days a week through the summer.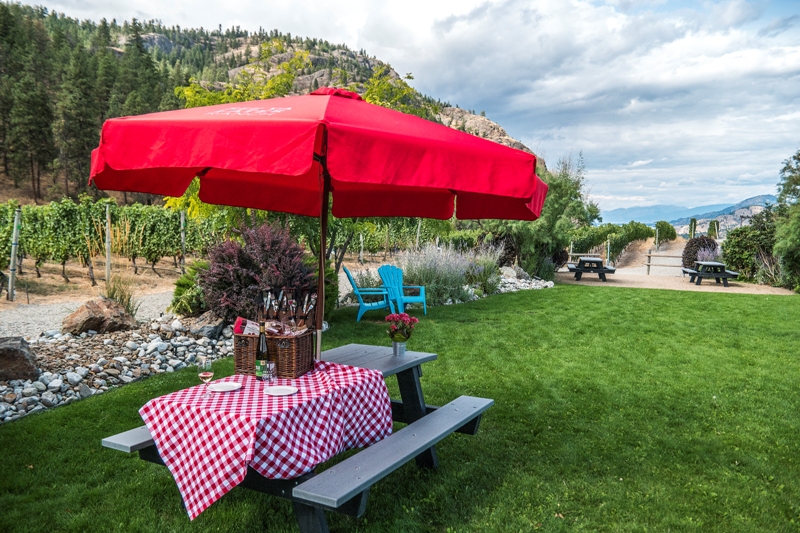 Christie Memorial Park & Kenyon Park - Okanagan Falls
Picnicking at this park is like getting two parks in one - both on the lake. To the East, you have Christie Memorial Park with its grassy area dotted with massive weeping willow trees that just beg to be napped under. Right next door, you have kid-friendly, Kenyon Park with a splash park and playground and lots of grass to run around on. Plus, there's a covered picnic area that is great for big families or groups. There are good facilities here, a shallow swimming area, and you're only a block from the main strip in case you forgot something.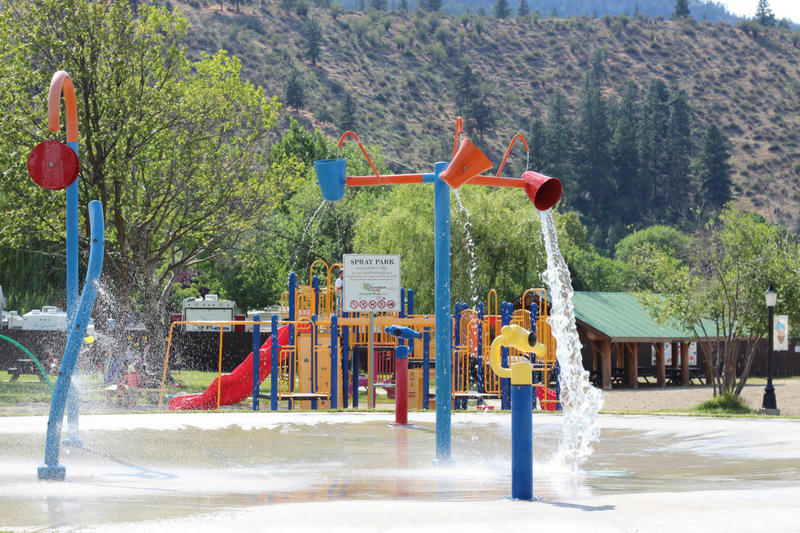 Jackson-Triggs and Inniskillin Winery - Oliver
Fancy a picnic on a winery patio? This location is for you. There's a nice patio table where you are welcome to nosh on your own food while enjoying a bottle purchased from the wine shop. The best part of picnicking here is that there are actually two wineries here - Jackson-Triggs and Inniskillin - you can choose wines from either of their iconic portfolios. The sunny patio offers a vineyard panorama backed by rocky hills. You can also enjoy the delectable food and wine pairing experiences here (in case you show up without a picnic).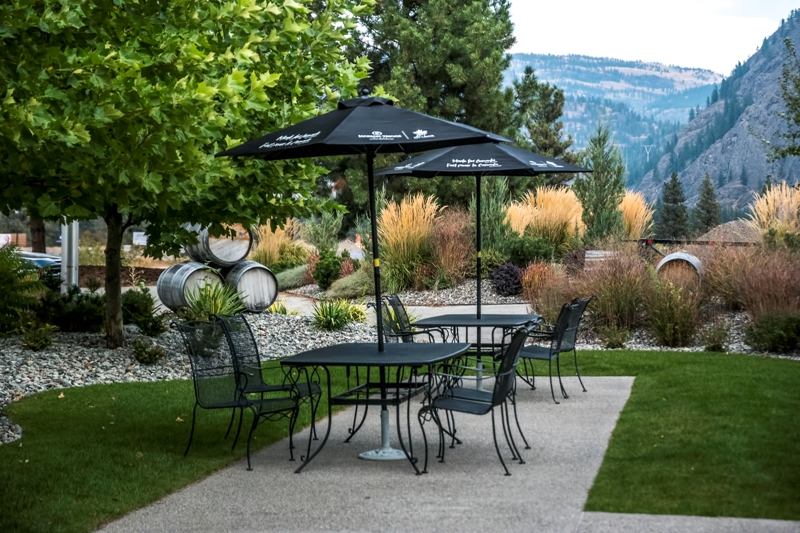 Sẁiẁs (formerly Haynes Point) - Osoyoos
There is so much to recommend this location for a picnic, especially since the campground itself is usually booked solid. The day use area at Sẁiẁs (pronounced s-wee-yous) Provincial Park is set just up from a cute beach right on Osoyoos Lake. There are picnic tables, change rooms and washrooms, trees for shade and plenty of things to entertain you when you're not eating. Take a dip in the lake, walk through the marsh and check out some birds, or learn more about the cultural significance of this site now operated by the Osoyoos Indian Band. After a visit to nearby Nk'Mip Cellars, it's definitely a great place to spend a few hours enjoying the splendor of the south end of the Valley.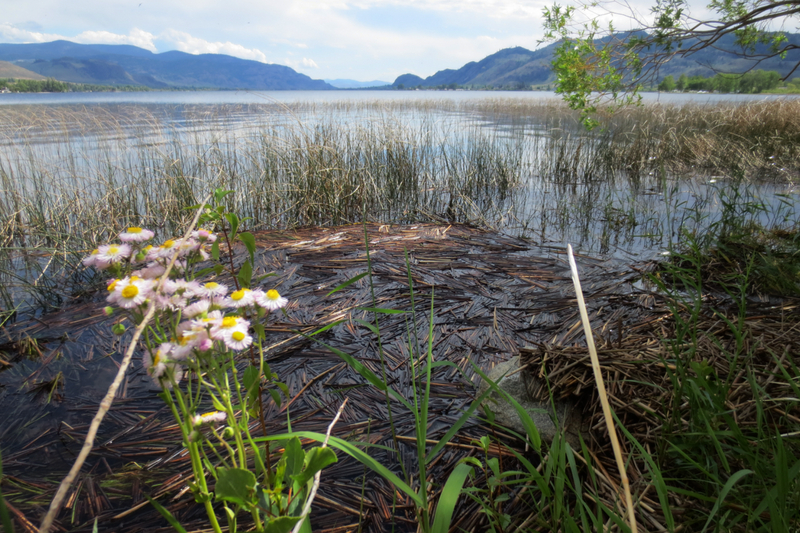 Nk'Mip Cellars - Osoyoos
The first thing you need to know about picnicking at Nk'Mip Cellars is that there is no picnic area at Nk'Mip Cellars! So, why is it on this list? Because you can enjoy all of the things you love about a picnic without the hassle of packing a picnic. The patio restaurant offers a spectacular view, delicious lunch or snack options, and serves award-winning wine by the glass or bottle. This is the place if your idea of a picnic is as upscale as picnicking gets - kind of like glamping instead of camping.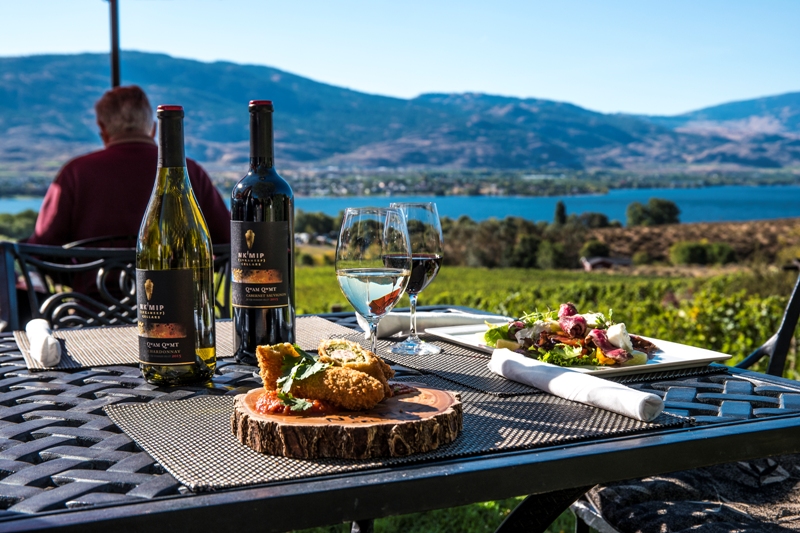 Conkle Provincial Park - Westbridge, BC
This final entry might surprise you and that's because it's a bit of a local's secret and a hidden gem. That's because it's a bit off the beaten track. From Nk'Mip Cellars, head down the hill and turn left on Hwy 3. Watch for signs for Conkle Provincial Park after about 40 km. Turn left on Johnstone Creek Road (which is a bit bumpy going) and continue to follow the signs. So, what makes this spot worth the 1hr + drive from Nk'Mip? The picnic area is located on a pebble and sand beach next to one of the most serene lakes you'll ever lay your eyes on. Plus, there are some rustic facilities, trees for shade, and a couple of tables. Once you get out here, you won't want to leave which is why we suggest arriving prepared with a tent and some wine from Nk'Mip so you can slip into one of the first come/first serve, forested campsites. It's the perfect place to enjoy your wine and leisurely picnic while surrounded by nature.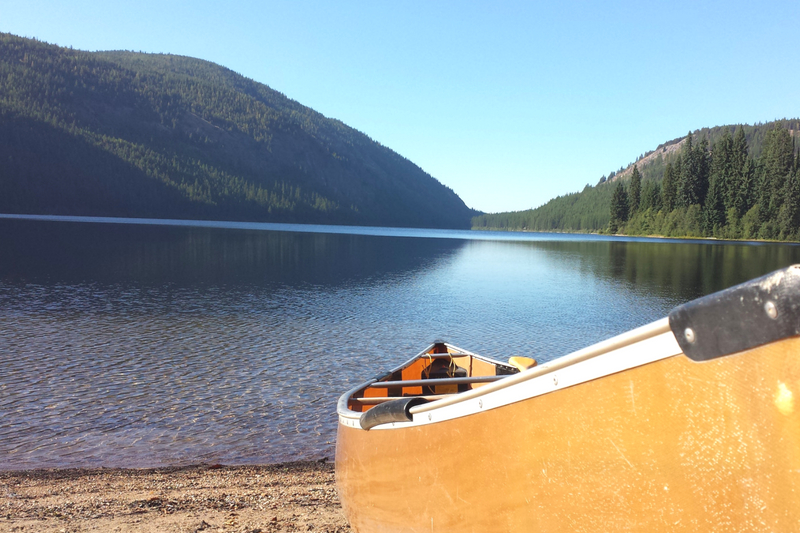 Winery Images by Milk Creative Communications

Sumac Ridge Estate Winery's 37th Anniversary Event!

Sumac Ridge will mark this special occasion by offering complimentary Steller's Jay Sparkling Wine. It will be served with its perfect pairing - mind-blowing truffle and tarragon popcorn.
Inside the wine store, guests can enter to win a surprise giveaway - perfect for wine-lovers. Plus, there will be specially priced gift packs like a bottle of Steller's Jay Gewurztraminer with 2 Go Vino Glasses and stopper for only $37. It's perfect for a picnic, patio, or party.
Those who want to keep the party going can sign up for Bubbles and Bites at 3:30 pm. This is a spectacular food pairing experience in the sparkling wine cave for only $25. And, anyone who signs up on this special day will get a bonus gift.
37 years is a milestone well worth celebrating. Stop by Sumac Ridge Estate Winery on July 11, 2018, from 11:30 am to 4 pm to be a part of it.
This event is in the past.

The Bubbles and Bites experience is available daily. Click the RESERVE NOW button below and select the day you'd like to visit.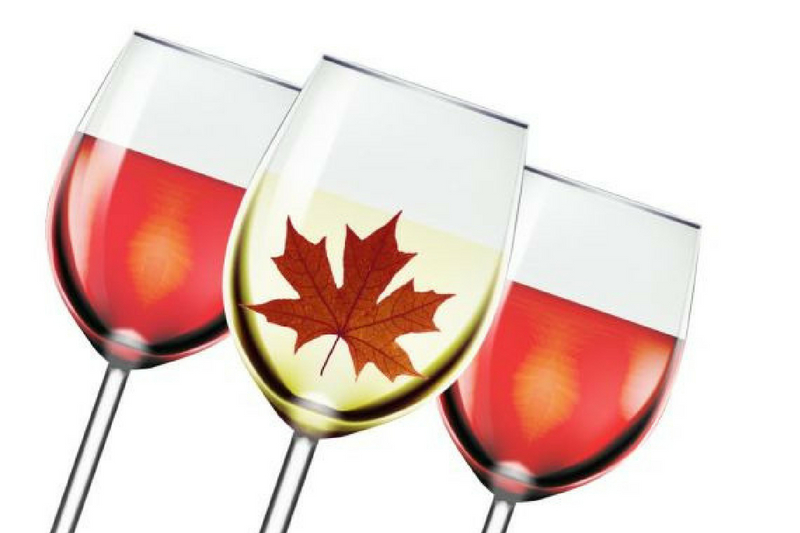 Test Your Knowledge with this Quiz
Ask someone to name a Canadian drink they're likely to say beer but did you know that wine has a deeper history here?
The first record of beer being made in Canada is from 1646 when Jesuit Brother Ambroise started to brew beer in what was then 'New France'.
However, the Vikings were making wine more than six centuries earlier in the area now known as the UNESCO World Heritage Site L'Anse aux Meadows in Newfoundland. So taken by the wild vines they found when they arrived from Iceland, they actually called their community Vinland.
Now that we've gotten the trivia train started, let's see how well you know your Canadian (and BC) wine.
Canadian Wine Quiz
1. Which Canadian celebrity does not own a winery (or parts of a winery)?
Mike Weir
Shania Twain
Dan Aykroyd
Wayne Gretzky
2. Which winery was the first Aboriginal-owned in North America
Gondwana Wines
Totem Vineyards
Nk'Mip Cellars
Indigenous World Winery
3. What year was the first Canadian winery established (besides the Vikings)?
1811
1792
1859
1921
4. There are 28.4 billion litres of wine produced around the world. What percentage does Canada contribute to that number?
1%
5%
.008%
.3%
5. Which country is not among the top importers of Canadian wine?
Japan
United States of America
Taiwan
China
6. True or false, Canada is the second largest consistent producer of Icewine in the world.
True
False
7. What type of wine is the most popular among Canadians?
Red
White
Sparkling
Rosé
8. How many people are estimated to visit BC wineries each year?
10,000
500,000
1,000,000
1,250,000
9. In 2006, for the first time ever, a Canadian winery won the coveted Shiraz/Syrah of the Year Award at the prestigious Spirit Competition in London. Which one was it?
Cave Spring Winery
Jackson-Triggs Okanagan Estate Winery
Sumac Ridge Estate Winery
Pillitteri Estate Winery
10. What does VQA stand for?
Vintners Quality Assurance
Vintners Quality Alliance
Vintners Quality Award
Voluntary Quality Assessment
Viniferas Qualis Acclamatus
Scroll down for the answers...
🢗
🢗
🢗
Answers
1. b) Shania Twain does not own a winery.
2. c) Nk'Mip Cellars in Osoyoos, BC was the first Aboriginal-owned winery. They opened their doors in 2002.
3. a) 1811. While there were people growing grapes and attempting wine before this, Johann Schiller made and sold wine in Ontario in 1811 and is widely considered the father of Canadian wine. In the west, Father Charles Pandosy made wine from grapes he planted at the Oblate Mission in Kelowna around 1859. However, the first winery license was issued in 1975 to Donald Ziraldo and Karl Kaiser of Inniskillin.
4. d) .3% Canada produces about 85.2 million litres of the global 28.4 billion litres of wine.
5. a) Japan is not a top importer of Canadian wine. In 2016, the top 5 countries were China, USA, Taiwan, South Korea and the UK.
6. b) False. Canada is the top producer of icewine in the world.
7. a) Red. According to Statistics Canada, 53.4% of all wine sales in 2016/2017 were red wine. White wine was the next most popular with 32.3%, followed by sparkling wine at 5.6% and Rosé and other styles of wine round things out.
8. c) 1,000,000 people visit BC wineries each year.
9. b) Jackson-Triggs. The Okanagan Estate Grand Reserve Shiraz was the first North American wine to ever win the prestigious award.
10. VQA stands for b) Vintners Quality Alliance. It's a regulatory and appellation system which guarantees the high quality and authenticity of origin for Canadian wines. BC VQA indicates it has met these requirements in British Columbia.
How did you do? Let us know on our Facebook page! Now that you know the answers, challenge your friends - over a glass of Canadian wine, of course.
Want to Learn More?
Here are the sources we gathered our information from.
https://www.rom.on.ca/en/blog/vikings-in-canada
http://www.canadianvintners.com/industry-statistics/
https://www150.statcan.gc.ca/n1/daily-quotidien/180510/dq180510a-eng.htm
http://www.winesofcanada.com/beginings.html
https://www.theglobeandmail.com/life/food-and-wine/wine/tracing-ontarios-wine-history/article1445548/
https://johnschreiner.blogspot.com/2016/03/class-of-2015-northern-lights-estate.html
Celebrate National Indigenous People's Day at North America's First Aboriginal Winery
What better way to welcome the summer than on a patio perch high above Osoyoos Lake celebrating National Indigenous People's Day with a multi-course meal prepared by Aboriginal chefs paired with wines crafted by Nk'Mip's own Justin Hall, a proud member of the Osoyoos Indian Band?
This five-course dinner representing the elements Earth, Water, Fire, and Air created by Enoch Cree Chef Shane Chartrand (River Cree Resort Edmonton), Nk'Mip Winery Chef Orlin Godfrey, and Chef Joseph Shawana.
Winemaker, Justin Hall will also personally share his pairings with the dinner. Plus there will be live entertainment and those magnificent vineyard views to add to the magic of the evening.
This event is in the past.
Here are a few from last year's event. As you can see, this is an event not to be missed!