Open year round.
Summer: June 29 - September 1 | 9:30am-6:00pm | 7 days a week
Fall: September 2 - October 31 | 10:00am-5:00pm | 7 days a week
Winter: November 1 - February 28 | 11:00am-4:00pm | 7 days a week
Spring: March 1 - June 28 | 10:00am-5:00pm | 7 days a week
Holiday Hours:
November 11: 12:00 pm - 4:00 pm December 24: 11:00 am - 3:00 pm December 25 - 26: Closed
December 31: 11:00 am - 3:00 pm January 1: Closed
17403 Highway 97 N
Summerland, BC
V0H 1Z0
Tel: 250-494-0451
Fax: 250-494-3456
E-mail: info@sumacridge.com
Visit: sumacridge.com and blacksagevineyard.com
Click Here to see the story on Global T.V with our winemaker Jason James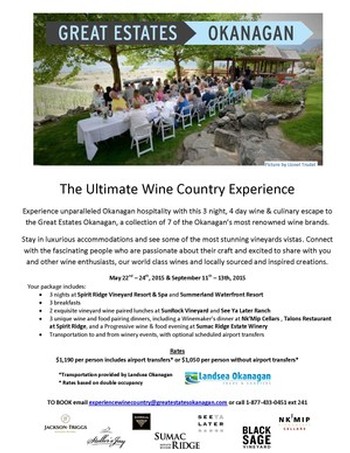 Wednesday, February 18, 2015
Join us at Sumac Ridge Estate Winery for another fantastic 'Blues' evening in the Black Sage Hall with Ross Neilsen. Doors open at 6:30pm, show time is at 7:00pm
Tickets $20 per person
BIO:
Canada's Ross Neilsen, does it right. He's taking strong, timeless material to the place that matters: The People. Seven Years, over 1200 shows and more than half a million kilometers traveled. In a time of corporate cookie-cutter music, this is the return to real. Neilsen's solo show has been honoured as a semi finalist in the solo/duo category at the International Blues Challenge in Memphis, TN in 2012 and with a at MusicNB award in 2013 for best blues recording for THE SHACK UP SESSIONS. Shack Up was recorded in Clarksdale, Mississippi just a mile from the legendary crossroads. The album is full of delta style blues, tall tales and the odd ghost. Ross Neilsen is a real, old-school kind of artist. Write. Tour. Record. Tour. Repeat.